Join us for an info session!
Join our team of experts for an information session to gain insight into the application process, discover what it takes to succeed in the program, and chat with a financial aid representative.
Date: Tuesday, December 12, 2023
Time: 4:00 p.m. - 6:00 p.m. PST
Location: Online via Zoom
RSVP for 12/12 Info Session
FALL 2024 APPLICATION DATES
Priority Deadline: October 24, 2023
Final Deadline: December 12, 2023
NOW ACCEPTING APPLICATIONS
What do BCBAs do?
Behavior analysts (BCBAs) focus on the direct behavioral outcomes of their interventions. They typically start by identifying current contexts that are responsible for behavioral problems, then design changes to those same contexts to promote better behavior. In doing so, the BCBA works with the people who play an active role in the context of the behavior, such as family, teachers, other caregivers, and other health care providers. Behavior analysts typically work directly with the client and caregivers to arrange practice opportunities to promote the desired behavior change.
Applied Behavior Analysis is a well-developed discipline among the helping professions, with a mature body of scientific knowledge, established standards for evidence-based practice, distinct methods of service, recognized experience and educational requirements for practice, and identified sources of requisite education in universities. Behavior Analyst Certification Board
Based on a curriculum that addresses the behavioral theory and its real-world application, this two-year program prepares you to step into top positions in the field. Students will receive on-the-ground training in clinical settings arranged by CSUN, with faculty guidance each step of the way. You will learn how to conduct thorough behavioral assessments, implement and monitor evidence-based interventions, and consult with parents, caregivers, and school personnel while adhering to the profession's ethical guidelines. This cost-competitive degree also lays the groundwork for admission into the nation's most prestigious ABA doctoral programs.
All courses are taught by doctoral-level faculty and feature BACB® approved content, including curriculum in human development, psychopathology, developmental disabilities (e.g. Autism Spectrum Disorder), and behaviorism. The program's course work is designed to promote the progressive development of behavior analytic skills. Upon graduating and successful completion of supervised fieldwork hours, you will be eligible to sit for the BCBA examination.*
HIGHLIGHTS
95% of CSUN's ABA graduates passed the 2021 BCBA Exam on their first attempt. That's compared to a national average of just 60%. (See BACB pass rates). CSUN ranked third internationally in pass rates of first-time test-takers in 2018.
On-campus and off-site practicum options are arranged for you so you can obtain the required supervised fieldwork hours.
Students could be eligible for paid positions with partnering agencies, federal work study, student assistantships, and more. In prior years, more than 80% of our students held at least one paid position.
Many students get hands-on experience such as working as a student assistant, presenting at conferences, or conducting research.
Upon graduating, 90% of our students have jobs in the field of Behavior Analysis.
CSUN's cohort model lets you progress through the program with the same peer group. With this format, enrollment is guaranteed in all courses, leading to exceptionally high graduation rates.
*To qualify, applicants must also complete required supervised fieldwork hours.
No GRE required to apply for the program.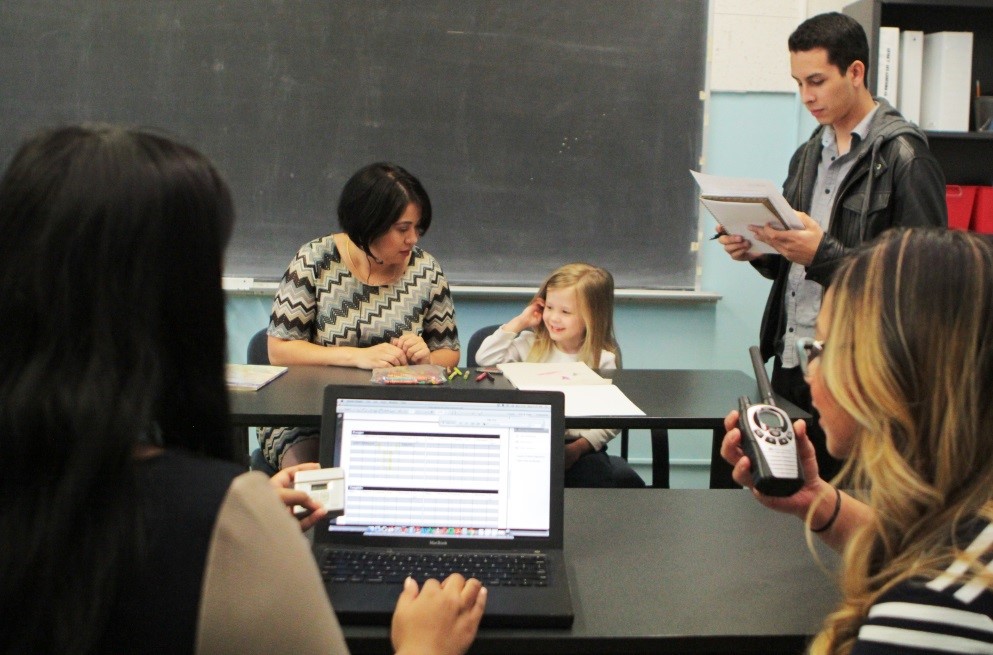 Demand for behavior analyst positions has gone up every year since 2010, with a 127% increase from 2017 to 2018. California had the highest demand of all states from April 2018 to March 2019. U.S. Employment Demand for Behavior Analysts: 2010-2018, Burning Glass Technologies report for the Behavior Analyst Certification Board (2019)