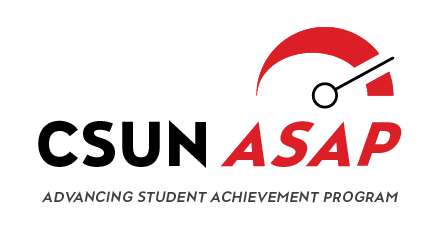 Embrace Your Academic Comeback
The Advancing Student Achievement Program (ASAP) is designed to support former CSUN students in navigating the path back to matriculation (matriculation means formal enrollment as an active CSUN student). The program serves those who:
Graduated
Were disqualified
Stopped attending
Recognizing the unique journeys and hurdles faced by students, ASAP empowers you to redefine your academic trajectory – whatever your circumstances may be.
Note: the Advancing Student Achievement Program cannot serve disqualified CSUN international students who require an I-20 to reenter or remain in the US.
Continue Your Path
For alumni, ASAP gives you instant access to a wide range of courses, all without official reenrollment in the university. Whatever path you choose, ASAP simplifies your return to academia, ensuring you can pursue education in any field, right from day one.
Don't Let Your Past Define You
ASAP is designed with you in mind, whether you need to revisit courses to boost your grades, or you left before finishing and wish to restart and complete your degree.
Restart Your Journey
With ASAP, undergrads you can earn up to 24 transferable units and graduate students can earn up to 9 units, regardless of your academic standing. And when you're readmitted, you can then apply these units to your degree. From the first day of each term, you'll be part of your courses on a 'space available' basis. You'll have early access to course materials, ensuring you don't fall behind while waiting for your permission number.
Never Learn Alone
As an ASAP student, your university adviser will help you design an academic plan that aligns with your individual goals and maximizes your chances for academic success. These plans will then be shared with other CSUN specialists, giving you an extensive support network on your academic journey.
Your Future Is Bright
If you left CSUN in good standing and wish to return, ASAP is also open to you. You can start taking courses while awaiting final readmission decisions and receive guidance from the university advier to help map out the best path toward your degree completion.
With CSUN's ASAP, you can redefine your academic story. It's time to take control of your future and it's never too late to complete your degree.