The Advantages of a High-Talent Team: A Dean's Perspective
From my perspective, every position in the Tseng College is an essential professional role. While this may sound like just an organizationally polite thing to say, for me it is simply a statement of fact.
When students enrolled in CSUN programs offered through the Tseng College contact or visit our offices, they expect to be speaking with someone who can answer their questions with precision and clarity, who is responsive to their needs – including being innovative in solving problems and finding/creating viable options – and who really cares about the mission of higher education and its ability to transform lives. CSUN faculty and staff as well as client organizations also need and rightly expect to receive an equally high level of responsiveness and professionalism from every member of the Tseng College team with whom they interact.
With this in mind, the Tseng College executive team gives serious thought to crafting positions and exercises considerable care in filling them. Once a position has been filled, we do our best to give our employees creative "range," and we consistently invest in continuing professional development for each staff member.
Over the past ten years we have developed an impressive set of organizational capabilities that have a direct impact not only on the quality of the programs offered but also on the links between program curricula and forefront practice in their fields, the creativity and effectiveness of different approaches to program-delivery, student and client satisfaction with our support services, and more. Each year, as the list of our organizational capabilities gets longer (yes, we do have a list), we find ourselves rethinking and recombining these capabilities in different ways. This process keeps us agile and innovative whether we are serving the needs of students and client organizations, locally, regionally or around the globe.
If you were to visit the Tseng College and speak with any member of the staff, you would find something extraordinary in who each of them are, what they can do, how they think, and their enduring belief in education and its significance for our shared future. Working together, the highly talented Tseng College team has done much to advance and solidify the position of California State University, Northridge as a leader in advanced professional and midcareer education in California and well beyond.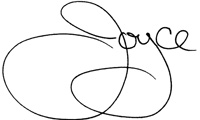 Joyce Feucht-Haviar, Dean
Tseng College