IEP Courses
The Intensive English Program is designed to assist non-native speakers of English in improving their academic English-language skills. Students are required to attend 20 hours of instruction per week. Core 1 and 2 classes provide instruction in all language skill areas: reading, writing, speaking, listening. This English for Academic Purposes curriculum includes public speaking and presentations, critical reading, and academic research and research paper writing (15 hours per week). Core 3 Courses are offered in areas such as TOEFL and IELTS Preparation, Grammar, Conversation, and Vocabulary and English for Math. (5 hours per week)
IEP Instructional Levels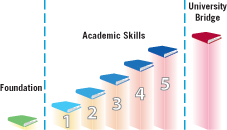 Based on the results of the placement exam students take when they enter the Intensive English Program, students may begin their studies in one of the following IEP levels:
Foundation (beginning) – for students who need to build basic English-language skills
Academic Skills (intermediate) – core skills for university-study preparation
University Bridge (advanced) – transitional courses from the IEP to the university and for students who plan to receive a TOEFL waiver* for undergraduate and graduate studies
*Students who successfully complete IEP studies and the required University Bridge course (University Bridge A - Undergraduate; University Bridge B - Graduate) and meet GPA and other University and Department requirements, are eligible to receive a TOEFL waiver. See IEP with Conditional Admission.
Advanced-Level Option to Take University Classes
Students enrolled in advanced-level IEP classes may substitute university credit courses for one or more IEP class. This option allows students to begin earning university credits towards their degrees at CSUN while also accessing support services offered through the program.
Successful Completion of the Intensive English Program
Successful completion of the CSUN IEP program is strongly recommended to support the academic success of international students who enroll in degree programs at CSUN. Read more details outlining the Successful Completion of the Intensive English Program.
Enrollment Verification of Intensive English Program
All IEP courses are graded and included on official CSUN transcripts, which can be requested via the CSUN Admissions & Records office. If you have any questions regarding obtaining transcripts, please contact us at collexl@csun.edu.
Students may also request a letter verifying enrollment, by contacting us at collexl@csun.edu.
IEP Support Programs
In addition to regular IEP classes, which are held from 9 a.m. to 2 p.m. daily, students can receive additional, supplemental instruction after class.
Tutoring
The Tutoring Center is a free service offered only to the currently enrolled IEP students with the primary purpose of guiding students to become independent readers, writers and speakers of English. Tutors, university students studying TESL, linguistics or a related field, facilitate student learning by providing one-on-one assistance and support in a comfortable, non-threatening atmosphere where students can express their concerns about their skills. Through questioning, modeling and discussion of various strategies and techniques, tutors will help students gain confidence in their English language abilities.
The Tutoring Center Helps Students with the Following and more:
Understand homework or essay assignments
Recognize and learn how to correct grammar and punctuation errors
Practice pronunciation in general and for class presentations
Practice reading skills
Find a focus on a topic and brainstorm some ideas to begin an essay
More fully develop a thesis and ideas for an essay topic
Integrate resources and documentation of a research paper
Clarify the structure and organization of an essay
Activity Classes
These classes provide students with opportunities to study subjects of interest and practice their English in areas such as American Films and Culture, Pronunciation, Reading for the TOEFL and IELTS, Idioms and Slang, and more. These classes are taught primarily by CSUN graduate students who are finishing degrees in TESL, Linguistics and appropriate fields. Course duration is five weeks. Students may sign up for multiple classes.
Sample tutoring & activity classes
Monday
Tuesday
Wednesday
Thursday
2:15-3:15 p.m.
2:15-3:15 p.m.
2:15-3:15 p.m.
2:15-3:15 p.m.

Movies and American Culture

Pronunciation
Reading for the TOEFL and IELTS
Idioms and Slang

TUTORING

TUTORING

TUTORING

TUTORING

3:15-4:15 p.m.
3:15-4:15 p.m.
3:15-4:15 p.m.
3:15-4:15 p.m.

TUTORING

TUTORING

TUTORING

TUTORING

4:15-5:00 p.m.
4:15-5:00 p.m.
4:15-5:00 p.m.
4:15-5:00 p.m.
 
 
 
 
Conversation Swap and Language Exchange
IEP students have the opportunity to not only meet new friends on campus and practice your conversational English but also to share your own native language. By joining this fun, interactive activity, students make friends with local students and from around the world!
Practice TOEFL and IELTS Tests
In addition to the CORE 3 TOEFL/ IELTS test prep courses, student have the opportunity to practice taking the following prior to their official exam:
Complete practice TOEFL iBT test
Cambridge IELTS Pretest
IEP ETS Official TOEFL iBT Testing Center
IEP is a Certified Testing Center for the Educational Testing Service (ETS). Therefore, students can take the official TOEFL iBT (Test of English as a Foreign Language) and/or the TOEIC (Test of English for International Communication) exam at the IEP site.
For information on how to register for these tests, please contact the IEP Academic office at 818-677-5938.
IELTS Testing Center
Students can take the official Cambridge IELTS pretest, offered at various times of the year.
For more information on how to register, please contact us.
Adobe Acrobat Reader is required to open and read some of the linked documents on this page. Download a free copy of Adobe Reader.