The M.S. in Assistive Technology Studies and Human Services program is designed and taught by CSUN faculty members in collaboration with assistive technology industry professionals who are leaders in their areas of specialization. This blend of seasoned practitioners with CSUN faculty ensures that you will graduate with a solid academic background and be prepared for the realities of practice in the field.
Rebecca Cagle, M.S.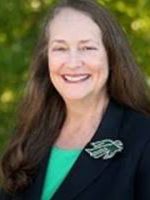 Employed in the Office of Disability Accommodation at the University of North Texas (UNT) since 2006, Ms. Cagle is the Assistive Technology & Text Conversion Coordinator. Her past experience includes working as a rehabilitation specialist at Brookhaven College, Dallas, TX; special education teacher in the Dallas Independent School District; and serving as a research associate at University of Texas (UTSW) Southwestern Medical Burn Unit. She also completed internships in medical neuropsychology at UT Southwestern, and at PATE, a TBI rehabilitation clinic. Rebecca served as advisor to the Delta Alpha Pi International Honor Society (for students with disabilities)-UNT Alpha Nu Chapter and as co-sponsor to the Phi Theta Kappa Honor Society (for student with disabilities in community college.)
Current advisory committees include: Elsevier (Science Direct) Publishing Accessibility Committee; Freedom Scientific Advisory Committee, LearningAlly College Success Advisory Panel, and locally the Denton County Transportation Authority Citizens' Advisory.
Ms. Cagle received her M.S. in Assistive Technology & Human Services from California State University Northridge and her B.S. in Rehabilitation Science from University of Texas Southwestern. She received certifications in Life Care Planning from Kaplan University and is an IAAP Certified Professional in Accessibility Core Competencies.
Rebecca has conducted numerous training sessions, and presented at disability/accessibility-related conferences throughout the Southwest. Rebecca enjoys organic gardening, kayaking, and playing Frisbee with her dog.
In CSUN's ATHS Master's program, Ms. Cagle teaches "Assistive Technology Assessment and Outcomes Measures" (ATHS 621).
Suzanne David, M.A.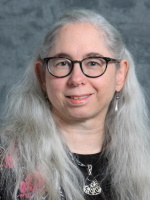 Suzanne David is the e-learning Technology Manager at CSUN's Tseng College, where she has been an instructional technologist for online learning since 2001. In this capacity, Ms. David developed the distance-learning orientation that prepares all Tseng College online students for full participation in the programs in which they have enrolled. Ms. David's primary interests are in user-experience design, accessibility, and human sensation, with an emphasis on user interface.
Ms. David earned her master's degree in Human Factors and Applied Experimental Psychology at CSUN. In CSUN's ATHS program, she teaches "Seminar in Human Characteristics in Relation to Usability of Assistive Technologies" (ATHS 502).
Erika Higginbotham, M.S.
Erika Higginbotham is the program coordinator and chair of Disabled Student Programs and Services at San Diego Mesa College. A tenured faculty member, counselor, professor and adaptive computer technology specialist, Higginbotham provides assistive technology services to students and consults with faculty and staff. She also authorizes and coordinates academic accommodations and advises students with disabilities.
In addition to her extensive teaching experience, Higginbotham served as co-chair of the Assistive Technology Special Interest Group (CIG) for the California Association for Postsecondary Education for Disability (CAPED) and was Regional Representative for the California Community Colleges Alternate Text Production Center (ATPC). She also served on the Advisory Board for McGraw-Hill Accessibility Higher Education.
Higginbotham received a B.S. in Sociology from Western Michigan University; an M.S. in Rehabilitation Technology with a Specialization in Rehabilitation Technology from San Diego State University; and a Certification in Rehabilitation Technology from San Diego State University.
S. Victoria Jaque, Ph.D.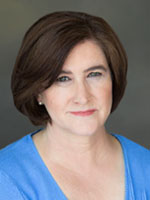 S. Victoria Jaque is a professor and graduate coordinator in CSUN's Department of Kinesiology. She has been recognized for her research in the physiologic and clinical manifestations of maternally inherited mitochondrial disease. Additional research interests focus on the musculoskeletal responses to exercise and adaptations to chronic physical activity. She was the 2009-2010 CSUN College of Health and Human Development research fellow.
Dr. Jaque earned her doctorate in exercise science from the University of Southern California. In CSUN's ATHS program, she co-teaches "Directed Comprehensive Studies" (ATHS 697).
Jennifer Kalfsbeek-Goetz, Ph.D.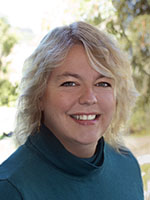 Jennifer Kalfsbeek-Goetz is currently a Dean of Student Learning at Moorpark College and was formerly the Assistant Dean for Program Development at CSUN. She is also a professor in CSUN's College of Health and Human Development. Access to education – including accessibility (ADA) – is among her core research areas.
Dr. Kalfsbeek-Goetz's career highlights include managing various research projects in the areas of equality, health, and wellness. Among the more recent was CSUN's "Getting Around Campus When You Cannot See the Signs," a GPS project created to help blind and visually impaired students navigate the 356-acre campus.
Dr. Kalfsbeek-Goetz received her B.A.S. in Psychology from the University of Minnesota, her M.A. in Sociology from the University of Maryland, and her Ph.D. in Education Administration from Capella University. In CSUN's ATHS program, she teaches "Research Methods and Design in Assistive Technology" (ATHS 618).
Dorsa Beroukhim Kay, Ph.D.
Dr. Kay has teaching experience in neuroscience and physiology. Her research focuses on neuroscience, neuroanatomy, learning and behavior and stroke recovery. Kay has published works in the fields of systems neuroscience and stroke recovery/brain plasticity.
In 2013, Kay received the Graduate Education Teaching Award from the Dana and David Dornsife College of Letters, Arts and Sciences at USC. She also received the Pre-doctoral Training Program Award of Education, Career Development, and Ethics under the Southern California Clinical and Translational Science Institute. Additionally, Kay was a 2014 Dornsife fellow at USC, and a finalist in USC's Graduate Research Symposium.
Kay earned a B.S. in Neuroscience from University of California, Los Angeles; a Graduate Certificate in Clinical, Biomedical and Translational Investigations from University of Southern California (USC); and a Ph.D. in Neuroscience from USC.
Sarah K. Mak, M.S., ATP
Sarah K. Mak is an adjunct professor in the department of Assistive Technolology and Human Services in CSUN's College of Health and Human Development. She has been an Assistive Technology Specialist since 2002, serving individuals with disabilities in various capacities. She has worked for an AT resource center in Tennessee as both a specialist and a director, with a focus on communication, education and computer access. She is now the Assistive Technology Facilitator at the Kennedy Krieger Institute ─ an affiliate of Johns Hopkins University ─ where she works in the K-12 Special-Education unit.
Ms. Mak earned both her B.A. in Deaf Studies and her M.A. in Assistive Technology and Human Services at CSUN. She also has a certification in Assistive Technology from California State University, Dominguez Hills, and is a RESNA (Rehabilitation Engineering and Assistive Technology Association of North America)-certified Assistive Technology Professional.
In this program, Ms. Mak teaches "Current and Emerging Topics in Assistive Technology" (ATHS 694).
Rechelle Mojica, M.S., CRC
Rechelle Mojica has been a Certified Rehabilitation Counselor and a tenured faculty member, professor, counselor and Assistive Technology Specialist at San Diego Miramar College since 2001. In this position, she is responsible for access to distance education and electronic information for students with disabilities. She also designs, develops and delivers training in the use of assistive hardware and software and provides academic counseling to students with disabilities.
Ms. Mojica's previous experience includes serving as Assistant Director of the Center for Distance Learning at San Diego State University and as a consultant for the University's "Project Higher Education: Disability and Diversity" initiative.
She has also taught a number of courses on rehabilitation-technology topics at other institutions, including Indiana University-Purdue University, and Miramar College.
Ms. Mojica received her B.A. in Liberal Arts and Communicative Disorders ─ with an emphasis on Speech Pathology ─ from San Diego State University. Her Master of Science degree in Rehabilitation Counseling with Specialization in Deafness is also from SDSU.
In CSUN's ATHS program, Ms. Mojica teaches both "Assistive Technology Across the Lifespan" (ATHS 614) and "Counseling in Assistive Technology Service Delivery" (ATHS 622).
Michael Williamson, M.S., ATP
Michael Williamson has been working in the field of assistive technology and disability services for more than 10 years. He is currently an Assistive Technology Specialist and Consultant as well as a RESNA-certified Assistive Technology Trainer, and a course developer and instructor for the Assistive Technology Applications Certificate program, offered through CSUN's Center on Disabilities.
Mr. Williamson earned his B.A. in Education from Augustana College in Rock Island, Illinois, and his M.S in Assistive Technology and Human Services from CSUN. In this program, Mr. Williamson teaches "Current and Emerging Topics in Assistive Technology" (ATHS 694)