OPEN UNIVERSITY
Classes for non-CSUN Students
Through Open University, anyone ─ community members, professionals, international or visiting students ─ can take CSUN courses during the Fall Semester and Spring Semester.
---
No formal application or admission process
Courses available on campus or online
Earn transferable credits - up to 24 units for bachelor's degree and 9 units for master's degree
Summer session:

Your choice of three sessions - 6 weeks or 12 weeks long
Take up to 13 units
Financial aid available to eligible CSUN students
EDUCATION FOR EVERYONE
Classes for CSUN Students and non-CSUN Students
These accelerated-format university courses are perfect for improving your GPA, satisfying prerequisites, or enabling you to graduate faster.
---
Take up to 4 units
Offered in two components:

4 week online courses
3 week on-campus courses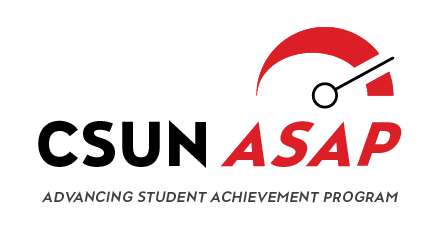 CSUN Advancing Student Achievement Program (ASAP)
CSUN ASAP is a program designed to support academically disqualified students in navigating the path back to matriculation at CSUN. The program serves former CSUN students who have...
been academically disqualified
stopped out or left the institution before obtaining a degree
very few courses to complete a CSUN degree
To take advantage of this program, please complete the webform.