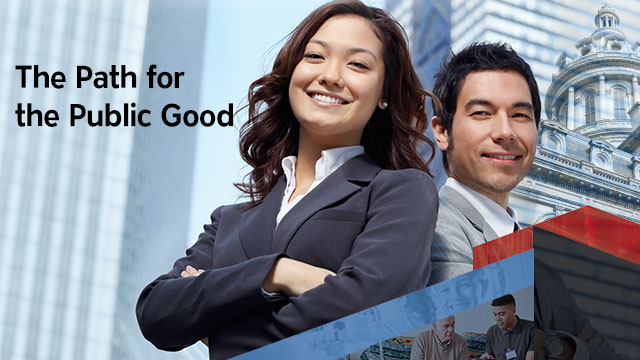 In this sector, each program is a passion project – a commitment to community advocacy and a better future for us all. Whether you're an experienced professional or just entering the field, we can help you find a degree or certificate to match your goals.
To create these programs, we worked closely with city and county agencies to identify the most useful and professionally attractive skills for the sector. In each course, faculty use real-world experience to introduce concepts and methods you can apply immediately. With case studies, close industry partnerships, and powerful peer networks, an education with us is a singular opportunity.
Whatever your ambition, our programs can prepare you for an enriching career in public service. Explore our options – from short-term leadership certificates to industry focused graduate degrees – and build the future you want.
Start your new path.
Master's Degrees
CSUN is one of the nation's leading providers of MPA degrees. This program is designed for professionals employed in all areas of the public sector who wish to improve their management skills and knowledge. The program is offered online, on campus, and at various Southern California locations. CSUN's MPA options:
Public Sector Management and Leadership
Nonprofit Sector Management
In this program, you'll learn how to improve social services and urban conditions for people and communities in Southern California and across the nation. Delivered fully online, the program provides the skills and knowledge to thrive at all levels of the field – individual, group, and societal – and arranges fieldwork placements for you.
This online master's program prepares you for a career leading diverse organizations and communities. With an emphasis on social justice and theory, you'll know, upon graduating, how to develop and implement fair and equitable practices in cities across the nation.
Never has good public health been a more urgent need. Cities, counties and federal agencies are aggressively recruiting graduates of MPH programs, who can provide timely and credible health information to the public – about everything from pandemics to food programs. This master's degree is ideal if you're interested in a career with the World Health Organization, which requires a postgraduate specialization in a health- or management-related field for its higher-grade positions.
This program provides engineers in the public sector with the leadership training and technical expertise to manage high-level engineering projects, teams and resources at the city and county level. In addition to robust technical and management training, the program also includes advanced study of data analytics, which improves your ability to use data in a variety of contexts – a skill desired by many local agencies.
Like the corporate sector, public and nonprofit agencies require sophisticated training for their personnel and the communities they serve. With this degree, you can design, implement and assess educational programs, such as online courses, professional development seminars and how-to modules for public sector goods and services. You'll also learn how to optimize the learning strategies of people and organizations.
In cities around the country, persons with disabilities rely on assistive technology devices to pursue active, healthy lives. By earning this degree, you can begin a career focused on helping assistive technology users; ensuring compliance with regulations; and creating a more equitable environment for all.
As a behavior analyst, you can help improve the lives of clients and caregivers through effective behavioral inventions. In large cities, many with booming populations, the demand for these experts is high. A degree in the field not only prepares you for the important work of client recovery and improvement, but it also, if you choose CSUN, qualifies you to sit for the Board Certified Behavior Analyst (BCBA) examination. Many, upon finishing this degree, continue on to doctoral work in related fields.
Bachelor's Degrees
This multidisciplinary program covers both business and public sector areas, including budgeting, management, team building, problem solving and other courses vital for managers working in the government or nonprofit sectors.
Certificates
With a focus on the nonprofit sector, this certificate provides valuable public sector knowledge – such as management, budgeting and community outreach – all in a short-term format.
Access to University Courses
Interested in a single course? With Open University, you can take CSUN courses without enrolling in a program – the perfect way to explore your passion.
These accelerated-format university courses can help you learn a new topic, build professional skills, or prepare for future study.
Contracted Programs
CSUN develops a wide range of educational and professional development programs at the undergraduate, graduate and post-graduate levels. Often shorter in duration, these programs include everything from business, communications and the public sector, to engineering, humanities and the arts. If you have a program in mind, we're prepared to help you build it, no matter how technical or specific the content. More information on Contracted Programs >>