R. Dianne Bartlow, Ph.D.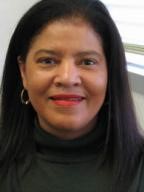 Professor, Department of Gender and Women's Studies
DCDL 610: Communication Skills in Community Development
Bartlow earned her Ph.D. from the University of California San Diego in communication, with an emphasis on critical cultural/media studies, gender, race and discourse, cognition and human interaction. She has expertise in diversity, social justice issues and effective communications. Her research focuses on representations of African American women in popular music, culture and film, and violence against women. Her published work includes "No Throw-away Woman: Maria W. Stewart as a Forerunner of Black Feminist Thought", in Black Women's Intellectual Traditions: Speaking Their Minds. Bartlow authored "African American Women and the Prison Industrial Complex: A Textual Reading of Neema Barnette's Civil Brand" in the International Journal of Africana Studies; the chapter, "Judicial Response to Court Assisted Child Murders," published in Domestic Violence, Abuse and Child Custody(second edition), by Civic Research Institute; and in the same volume co-authored with Barry Goldstein "Childproofing Custody Courts: What Can Be Learned From Child Murders Related to Custody Cases." Bartlow has also worked extensively in television production and is a multiple Emmy Award winning director/writer/producer. She is currently developing the documentary, Justice Denied.
Ray Calnan, Ph.D., MBA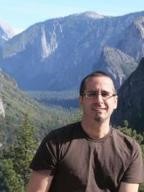 Assistant Professor, Department of Business Law Director of Assurance Learning
DCDL 620: Building Community-Government-Private Partnerships
DCDL 698: Capstone Graduate Project
Calnan is actively engaged in business and community involvement, including directly working with nonprofit and government organizations and with businesses of varying sizes, and leveraging the business world to accomplish public policy goals. Calnan's Ph.D. in policy, planning and development from the University of Southern California gives him high-level expertise in how the government collaborates with communities and develops policies. His Master of Science Geographic Information Systems Technology gives him a strong understanding of how communities are created, designed and evolve. His MBA International Business from California Lutheran University gives him a broad perspective on cultural behavior around the world related to business development. As the director of Learning Assurance for the David Nazarian College of Business and Economics, he has a keen awareness of the needs of students and the importance of learning. This is especially important in capstone courses where a major objective is the assessment of the program and the assurance of student learning.
Understanding the role of leveraging business as a partner is key to achieving public goals. Calnan not only understands the importance of public-private partnerships, but he has involvement in the community. He founded Charity Alliance Realty, a real estate brokerage that donates a percent of its revenues to local and regional charities. He also has owned and managed real estate, small development projects and commercial appraisal/consulting. His academic interests include affordable housing, demography, immigration and the environment. His interest in the environment and real estate development provided him the opportunity to appear in episodes of Greenovate, a Discovery network show about environmentally friendly home renovations.
Marcella De Veaux, Ph.D.

Associate Professor, Department of Journalism
DCDL 610: Communication Skills in Community Development
De Veaux is a media expert and educator with decades of experience in entertainment public relations, diversity best practices and coaching. She also serves as CSUN's associate director of Faculty Development. DeVeaux is a depth psychologist, educator and diversity consultant. She holds a doctorate in depth psychology and liberation psychology from Pacifica Graduate Institute. Depth psychology involves a set of techniques for exploring motives that lie below the surface of conscious awareness. The psychologies of liberation emerged from depth psychology, with a focus on ethnically diverse and indigenous communities. She also earned a master's degree in human resource management from Lesley College in Cambridge, Massachusetts. Both degrees support her work in grappling with unconscious bias in the workplace.
De Veaux arranges workshops on diversity, equity, inclusion and cultural competencies to build a culturally competent work environment for higher education, small to medium-sized businesses, nonprofit organizations and media companies, addressing issues of race, class and gender.
Her work has appeared in several publications, including Seeing in the Dark: Wisdom Works by Black Women in Depth Psychology; and Imaginative Inquiry: Innovative Approaches to Interdisciplinary Research. After a long association with Public Broadcasting Services (PBS), De Veaux founded DVG Communications, a full-service public relations agency specializing in campaigns targeting communities of color in the entertainment industry, including Black Entertainment Television, CBS Television, HBO, Lifetime Television, PBS, Showtime, Sony Pictures Television, and the Walt Disney Company. 
Alicia Ivonne Estrada, Ph.D.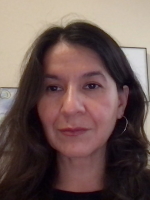 Professor, Department of Chicana/o Studies
DCDL 500: Theories of Community Development, Social Justice and Structures of Inequities
DCDL 520: Issues in Community Development and Empowerment
Alicia Ivonne Estrada is a professor in the Chicana/o Studies Department at California State University, Northridge. She has published on the Maya and Guatemalan diaspora in Los Angeles as well as on contemporary Maya literature, film and radio. She is co-editor with Karina O. Alvarado and Ester E. Hernández of the critical anthology U.S. Central Americans: Reconstructing Memories, Struggles and Communities of Resistance (University of Arizona Press, 2017). Estrada's work has appeared in Romance Notes, Latino Studies, Revista Canadiense de Estudios Hispánicos, among other journals and anthologies. Her current book project is on the Maya diaspora in Los Angeles. Since 2006, she has actively collaborated with the Maya radio collective Contacto Ancestral. The show has been on the airwaves for over a decade on the community radio station KPFK.
Steven M. Graves, Ph.D.

Professor, Department of Geography and Environmental Studies
DCDL 600: Methods: Qualitative and Quantitative
Graves is an expert in economic, forensic and pop culture. He teaches a variety of courses at CSUN but focuses on human or cultural geography. He enjoys teaching students how to read the landscape and how to understand cultural processes that color their lives.
His research in recent years has focused on the spatial dynamics and local effects of predatory lending, especially payday lending. He is keen to demonstrate how site location behaviors exhibited by this industry lay bare the business strategies employed by payday lenders, and how these strategies affect the lives of people living in regions targeted by predatory lenders. He has also done research on the music industry, cultural landscapes and waste transportation issues.
On the service front, he has worked for a number of years on a variety of initiatives to improve the quality of teacher preparation programs. Most significant has been his involvement with Teachers for a New Era, an ambitious project to reconfigure the way teachers are trained in the university.
Santosh Khadka, Ph.D.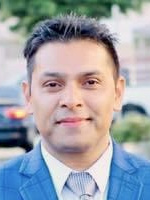 Associate Professor
Khadka is an Associate Professor of English and Academic Lead for Master of Arts in Diverse Community Development Leadership (DCDL) at California State University, Northridge. He has authored a monograph, and co-edited 6 books and 2 special issues of a journal. Khadka monograph, Multiliteracies, Emerging Media, and College Writing Instruction, and 3 co-edited books were published with Routledge in the years between 2018 and 2021. Whereas two of his co-edited collections, Bridging the Multimodal Gap: From Theory to Practice (2019), and Professionalizing Multimodal Composition (2022) were published with the Utah State University Press. He has also published several scholarly articles in journals in the United States and abroad. Khadka currently teaches graduate and undergraduate courses in digital media, professional communication, academic writing, and writing theories and pedagogies.
Breny Mendoza, Ph.D.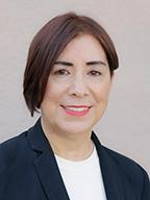 Professor, Department of Gender and Women's Studies
Academic Lead, M.A. Diverse Community Development Leadership
Mendoza's research focuses on political theory, transnational feminism and Latin American Studies, and feminist decolonial theory, giving her both local and worldwide perspectives on community development leadership. Sher received her Ph.D. in city and regional planning from Cornell University, and has a Master of Arts Political Science. She has an in-depth understanding of social and political issues related to community development leadership. Her understanding of international issues provides a widened perspective for students. Her work has appeared in book chapters in Argentina, Brazil, Columbia, Spain and the U.S., and in many journals. She has published three books: Sintiendose Mujer, Pensandose Feminista, a book about the making of the feminist movement in Honduras; Rethinking Latin American Feminisms, co-edited with Debra Castillo and Mary Jo Dudley; and the single-authored book, Ensayos de Crítica Feminista en Nuestra América, as the first publication of a book series on Latin American decolonial feminisms. She has developed and taught more than two dozen courses on topics that include peace and global justice; gender, race, class and sexuality; women and global development; neoliberal globalization; social inequality; and the environment as a social and political movement.
Karen Morgaine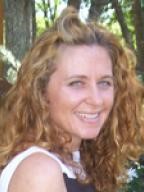 Professor & Chair, Department of Sociology
DCDL 630: Organizing in Diverse Communities
Morgaine has extensive experience in this field. She earned a Ph.D. Social Work and Social Research from Portland State University, and a Master of Arts Psychology from Antioch University. Prior to obtaining her Ph.D., she worked in nonprofit settings (mental health and public health) for 15 years. She was responsible for policy implementation and evaluation related to mental health services, domestic violence, burn prevention and child abuse. Her work in mental health and domestic violence intersected with local, state and federal institutions such as child protective services, the local criminal justice system, and state and federal medical systems. She also was a member of a local batterer's intervention advisory committee that worked with local and state agencies related to providing treatment and diversion programs. Additionally, she worked for 10 years with individuals and families involved with child protective services, which required a significant understanding of child welfare policies and policies related to domestic violence, drug and alcohol use, mental health services, and welfare/anti-poverty services.
She has engaged in research on domestic violence and developed and taught classes in community organizing, social movements and activism at CSUN. She has participated in community organizing through involvement in issues that include opposing anti-LGBTQ+ legislation, anti-racist activism and mobilization, and climate justice activism. She helped to coordinate white anti-racist events and recruited members through events related to local ballot measures. She is an active member of Extinction Rebellion Los Angeles, where she serves multiple coordinating roles in the arts working group and coordinating group. She has actively participated in social movements for many years through non-violent direct action, political education and activism. She also co-authored a textbook (and a 2nd edition) in anti-oppressive social work practice.
Daniel Omos, PhD.
Assistant Professor, Department of Sociology
DCDL 510: History of Diverse Urban Communities
Olmos has an in-depth understanding of the history of diverse urban communities. He received his Ph.D. Sociology at UC Santa Barbara and has taught courses in ethnic diversity in America, sociology of immigration, and sociology of globalization. His research and teaching interests examine issues of racial capitalism, race/racism, urbanism and globalization. Recent publications include "Radicalized Im/migration and Autonomy of Migration Perspectives: New Directions and Opportunities," in Sociology Compass.
Roland Palencia, MA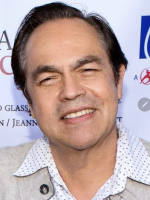 Instructor
Palencia has been a lecturer at CSUN's Central American Studies Department, and he is currently a professor in CSUN's Tseng College Diverse Community Development Leadership Master of Arts program. He received a B.A. in History from UCLA and a Master of Arts in the Engaged Humanitie from Pacifica Graduate Institute. In 2001, he was honored as a "Local Hero" by KCET (PBS affiliate) and Union Bank of California, and most recently, he received the Chancellor Emeritus Service Award at Pacifica Graduate Institute. For the past 20 years, he has designed and developed community-based grant making initiatives that have resulted in an average of $15 to $25 million per year, funding hundreds of non-profit projects. As a nonprofit executive, he has raised millions of dollars to expand social and health services and to address issues of health and other social disparities. Palencia is the former Community Benefits Director and a corporate trainer at L.A. Care Health Plan. He is also the previous Executive Director of Clinica Monseñor Oscar A. Romero and Equality California as well as the Chief of Operations and Vice-President at the AIDS Healthcare Foundation, now a global non-profit with a revenue of over one billion dollars.
Boris E. Ricks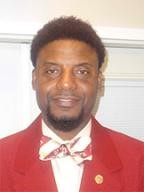 Associate Professor, Department of Political Science
Associate Director, Center for Southern California Studies, CSUN
DCDL 530: Applied Leadership
Ricks specializes in racial and ethnic politics, state and local politics, political leadership and public management. His research examines political incorporation and coalition building in city government. Ricks is an alumnus of the Pardee RAND Graduate School Faculty Leaders Program in Policy Research and Analysis, and a former Mellon Postdoctoral Fellow in the Politics Department at Pomona College. He received his Ph.D Political Science from the University of Southern California, his Master of Public Administration from the University of Mississippi, and his Bachelor of Science Criminal Justice from Mississippi Valley State University. His research has appeared in National Political Science Review, Journal of American Ethnic Studies, Rhetoric and Public Affairs, and the Encyclopedia of African American Religion and Politics. He currently is working on a project which documents the definitive political history of Black elected officials in Los Angeles.
Stevie Ruiz, Ph.D.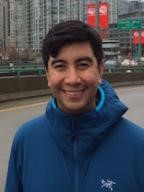 Assistant Professor, Department of Chicana/o Studies
DCDL 520: Issues in Community Development and Empowerment
Ruiz's interdisciplinary research and teaching focus on environmental justice, comparative race and ethnicity, critical science studies and cultural geography. He brings a cultural, social and societal perspective to this program. Ruiz is currently working on a book titled, Stewards of the Land: Race, Space and Environmental Justice. He has been published numerous times in this field, with his publications posted at csun.academia.edu/StevieRuiz.
Ruiz demonstrates to students how institutions shape their lives as well as their personal histories and futures. Issues of diversity, retention, and building a safe and productive learning environment are most important to him. He belongs to a dynamic department where activism and community mentoring are taken seriously.
Zeynep Toker, Ph.D.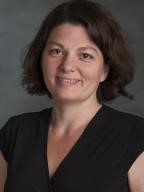 Professor and Graduate Adviser, Department of Urban Studies and Planning
DCDL 600 Methods: Qualitative and Quantitative
DCDL 698 Capstone Graduate Project
Toker has taught in CSUN's Department of Urban Studies and Planning since 2006, primarily courses on research methods and fieldwork. She has a strong understanding of the importance of involvement to improve communities, with experience that includes supervising more than 20 community design projects through service-learning courses. Students in those projects worked with community members in collaboration with community organizations to address local urban planning problems. Her Ph.D. Design, Community and Environmental Design Concentration from North Carolina State University, and her Master of City Planning in Urban Design from Middle East Technical University, give her in-depth knowledge and insights in this field. Toker has studied internationally, giving her a diverse perspective on addressing community development issues. She also has published articles on community design practice.
Toker teaches research skills that help students pursuing a variety of different career paths. Evidence-based decision making - the practice for different levels of government - requires an understanding of research methods that students will learn in the course. Also, preparing a grant proposal - essential for nonprofit organizations - requires research skills learned in the class. DCDL 698 shows that students are capable of planning and executing a comprehensive effort, using evidence-based decision making. Students can use the document they create in the course at their own job interviews.