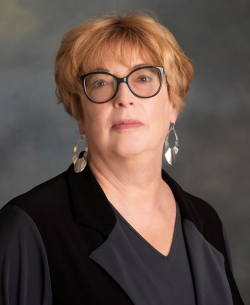 Joyce Feucht-Haviar (pronounced Foyt Hav-e-yar) is dean of the Tseng College (College) and Senior International Officer at California State University, Northridge. With a focus on graduate, international and midcareer education, the Tseng College generates more than $36 million in annual revenue and has over 28,700 enrollments per year. The College employs a full-time administrative staff of 73. Under her direction, the College has established itself as a leader in innovative program design for degree and non-degree programs, and redefined how higher education works with and for midcareer students and their employers. The College has also expanded its national and international reach through distance learning programs and innovative international partnerships.
During her tenure as dean, the College has more than quintupled its revenue, won more than 170 national awards for marketing, and been recognized regionally and nationally with awards for program excellence. Additionally, since her arrival, the College has been awarded multiple, high-status grants to support innovative program development. The College has also cultivated a sophisticated online program development capacity, offering 13 online master's degree programs, which achieve on-time graduation rates ranging from 80% to 95%. Further, the Dean pioneered a program development strategy that places emphasis on outcomes-based program design and assessment. She also developed the capacity to create and manage distinctive custom-designed and contracted programs; expanded the College's degree, certificate and professional development programs; and implemented robust student support services and administrative systems.
In the international arena, Dean Feucht-Haviar has established and sustained several innovative partnerships, leading – among many things – to the collaborative development of a new college in the Middle East. In this capacity, she developed an international graduate center concept for the CSU – the first of which was established in Oman. Most recently, she spearheaded a long-term educational partnership with the American University of Bahrain (AUBH). Part of a ten-year renewable relationship, this partnership will align the AUBH curriculum with CSUN's innovative programming. Domestically, the Dean is the continuing steward of the university's many international students. Through her vision, CSUN has solidified itself as an industry leader in international education, with programs ranging from immersive English-language seminars to intensive university study. Many, upon finishing the College's programs, matriculate into the university as full-time students. As CSUN's Senior International Officer, she drew together and created active collaborations among the many individuals and offices at CSUN that worked with the university's international students and international agreements. She proposed and implemented the creation of CSUN's International Coordinating Council as well as the International Education Council. She also shifted the transparency and visibility of CSUN international efforts by proposing and implementing the creation of an All Things International web presence.
The Dean is also the administrative director of the CSU5 ReLAY Institute. Part of the CSU5, this diverse coalition of L.A. City and County leaders is working to improve outcomes for the region's opportunity youth.
Dean Feucht-Haviar has served on a number of committees and commissions for the California State University, including chairing the CSU Commission on the Extended University's Committee on Innovation and Collaboration, and she serves on a variety of committees for the University Professional and Continuing Education Association, including the Strategic Planning Committee and the Western Regional Program Planning Committee. She also serves on a variety of university committees and councils at California State University, Northridge. She was named California State University, Northridge's representative to the Board of Governors for the Los Angeles County Economic Development Corporation. In addition, she presents regularly at regional and national seminars and conferences on leadership, organizational change and development, the future of higher education, and innovative program development. She is also involved in community service activities, including serving as a member of the Emeritus Board of Directors of New Horizons, a non-profit organization serving the needs of adults with developmental disabilities.
Before assuming her current role, Dean Feucht-Haviar served as associate dean of academic affairs for continuing education at the University of Virginia. Prior to that, she served as director of liberal studies programs and then associate executive director of continuing education at the University of Chicago.
She began her academic life as a fine arts student (painting and ceramic sculpture) and finished her undergraduate studies at Ohio University with highest honors, a bachelor's of fine arts and an Ohio teaching credential. She then earned a master's degree at the University of Chicago, exploring how people make and use ideas in the arts and beyond. Finding ongoing intellectual exploration in university life, she has also taken additional graduate courses at the University of Chicago, the University of Virginia and UCLA, studying management and marketing, theology and philosophy, cultural anthropology, physics, psychology and higher education.