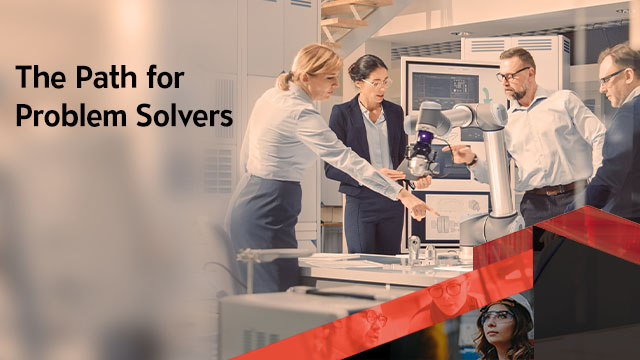 In this sector, each program provides a dynamic, hands-on education, focused on the skills you'll use in industry. Whether you're an experienced professional or just starting out, we can help you find a degree or certificate to match your goals.
When you graduate, you'll enter the workforce with the scientific and technical ability to tackle the world's toughest challenges. And with innovation and entrepreneurship integrated into your everyday job skills, you'll know how to build a business, grow an organization and form breakthrough ideas.
Major companies in Los Angeles, such as Boeing, Medtronic, Activision Blizzard and Aerojet Rocketdyne, continue to recruit our engineering and technical graduates, accelerating their careers and deepening the university's strong connections to industry.
Wherever you go, with an education in this sector, you'll find yourself at the center of the world's most challenging and rewarding work: space flight, mass communications, health care and big tech. Explore our options – from short-term leadership certificates to industry focused graduate degrees – and build the future you want.
Start your new path.
Master's Degrees
This program provides you with the leadership training and technical expertise to manage high-level engineering projects, teams and resources. In addition to robust technical and management training, the program also includes advanced study of data analytics, which improves your ability to use data in a variety of contexts – a skill desired by organizations nationwide.
Like the corporate sector, engineering and technical firms require sophisticated training for their personnel and the communities they serve. With this degree, you can design, implement and assess educational programs, such as online courses, professional development seminars and how-to modules for public sector goods and services. You'll also learn how to optimize the learning strategies of people and organizations.
Access to University Courses
Interested in a single course? With Open University, you can take CSUN courses without enrolling in a program – the perfect way to explore your passion.
These accelerated-format university courses can help you learn a new topic, build professional skills, or prepare for future study.
Contracted Programs
CSUN develops a wide range of educational and professional development programs at the undergraduate, graduate and post-graduate levels. Often shorter in duration, these programs include everything from business, communications and the sciences, to engineering, humanities and the arts. If you have a program in mind, we're prepared to help you build it, no matter how technical or specific the content. More information on Contracted Programs >>