This program is only available for contract (i.e. for employers who wish to commission and fund an exclusive cohort of the program for their employees). If you'd like to learn more about this program, please contact us by submitting the form on the left of this page. Thank you!
Want a job in TV or film?  This one of a kind online certificate program offers instruction for TV and film enthusiasts who want to work with the technology used to create today's most popular movies and television shows.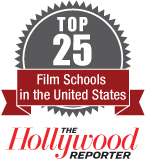 Course instructors are top industry professionals who have contributed to some of today's biggest movies & T.V. shows such as:
Birdman - 2015 Academy Award Winner for Best Picture
Captain America: The Winter Soldier
Iron Man 3
The Hunger Games: Mockingjay
True Blood
Mad Men
The Good Wife
Scandal
Master the technology and management skills needed by seasoned professionals and recent graduates
This is not just another course in editing. This program will ensure that students develop not only the operational skills, but also the business savvy necessary for success in post-production. Graduates will possess knowledge and immediately applicable experience in the following areas:
TV & Film Engineering and Computer Science
Color Science & Correction
Production Workflow & Management
Project Bidding
Studio/Client Interaction
TV & Film Broadcast Business Practices
Experience networking opportunities and industry access
The program is offered in the cohort format, which facilitates networking and the formation of lasting professional connections. Students will have the opportunity to learn from and work directly with the individuals who recruit & hire post production experts.
CSUN online programs share the same distinguished faculty and high academic standards with on-campus programs
This 10 course, online program provides working professionals with significant flexibility for completing coursework at times and in places that fit their own schedules. All CSUN online programs are crafted by the same distinguished faculty and leading practitioners as CSUN's on-campus programs.
Program cohorts encourage teamwork, support and high graduation rates
Students proceed through the program as a cohort, developing a supportive network with fellow industry professionals. The cohort design guarantees registration in all courses required for the program and also typically results in on-time program completion rates of up to 90 percent or higher.
Exceptional support services designed for working professionals
From application to graduation, students enjoy the one-on-one support of a designated program manager and a CSUN faculty member assigned to coordinate the efforts of all teaching in the program. This support frees busy professionals from navigating the University's administrative systems to focus on their studies.
Professional Development Certificates help professionals stay current and advance in their careers
Each CSUN Professional Development Certificate Program provides advanced professional education focused on the emerging issues in the specific field of practice. The program provides the latest knowledge and additional areas of expertise that enable participants to advance in their field. Upon completion, participants receive an official CSUN transcript that can be shared with employers as a record of their professional development achievements.