NEWS AND EVENTS
VITA Offers Free Tax Preparation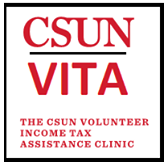 (February 5, 2016) - If you're getting nervous thinking about filing your taxes, don't panic! Help is on the way to get your forms filled in and submitted by the April 18 deadline! Volunteers with the VITA Clinic will share their specialized knowledge in taxes! And it's free! Those with household annual incomes of less than $54,000 can take advantage of the clinic's expertise. 
"Many low-income households cannot afford to pay a tax professional to prepare their income tax returns," said Raffi Efrat, Ph.D., director of the M.S. Taxation program and the Bookstein Institute for Higher Education in Taxation. "They may miss important tax deductions and credits that could put more money back into their pockets." 
Administered through the David Nazarian College of Business and Economics, the clinic has helped local taxpayers since 1970. And it doesn't charge those using its services. Volunteers include students in the Master of Science Taxation program. "It's powered with more than 270 IRS Tax Law Certified student volunteers on campus and in the San Fernando Valley. The VITA Clinic is ready to serve eligible taxpayers in our community," Dr. Efrat said. 
Clinic sites include Canoga Park, Pacoima, Panorama City, San Fernando, Sun Valley, Sylmar and Van Nuys. About 1,800 taxpayers are expected to use the services on campus or at one of those sites until April 15. 
"Our goal is to increase the number of individuals and families who receive no-cost tax preparation assistance," said Dr. Efrat. "We are excited to offer this important service."