NEWS AND EVENTS
VITA Clinic Helps Low-Income Taxpayers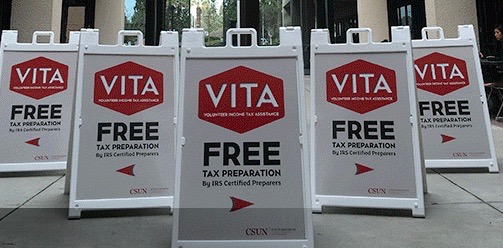 It's tax preparation time, but help is on the way! CSUN's VITA Clinic provides free tax preparation and filing if your annual household income is $54,000 or less.  The David Nazarian College of Business and Economics administers the annual program through the Bookstein Institute for Higher Education in Taxation.
"This year the VITA Clinic offers free tax preparation services, along with financial education, at sites throughout Los Angeles County," said Rafi Efrat, Professor of Accountancy, Director of the Bookstein Institute for Higher Education in Taxation, and Director of the M.S. Taxation program. We offer services six days per week throughout the tax season. This year we also are collaborating with Citi and the Veterans Administration to serve veterans in Los Angeles County at nine dedicated sites."
Specially trained accounting students, and students in the Master of Science Taxation program, prepare state and federal returns. Experienced practitioners supervise their work. The VITA Clinic has been a strong presence in the area since 1970, when it started providing free assistance for low-income tax filers. Last year VITA helped more than 6,000 people. That number is expected to increase this year at sites around the San Fernando Valley. Locations include CSUN, North Hills and libraries in North Hollywood, Pacoima, Panorama City, San Fernando and Sun Valley.
Thanks to widespread backing, the program continues.  VITA supporters include Harvey and Harriet Bookstein, the City and County of Los Angeles, California State Sen. Bob Hertzberg, City National Bank, CSUN Associated Students, the U.S. Department of the Treasury, HCVT, Family Source, Friends of the Family, New Economics for Women and Wells Fargo. Last year Bank of Hope presented CSUN with a check for $20,000 for the VITA program.
This year's filing deadline falls on April 17. So if you're a low income tax filer, make your appointment with VITA now!