NEWS AND EVENTS
Visitors from Oman University Meet with CSUN Officials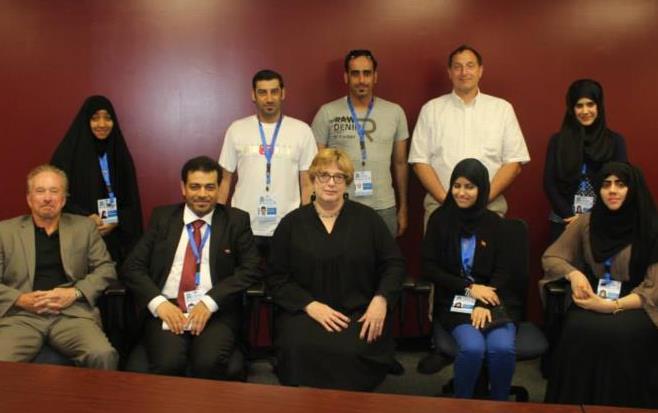 (NORTHRIDGE, September 10, 2013) – The Tseng College welcomed a visiting delegation from Al-Buraimi University College (BUC) in Oman to CSUN this week. BUC students take English and business classes at CSUN, and CSUN has a longtime partnership with BUC to develop business and other programs at the Oman campus.
BUC created academic programs at its campus in collaboration with CSUN, including business, education, information technology and English. CSUN faculty and advisers helped develop BUC's curriculum and its international Graduate Center at its campus. BUC students earn university credits that can apply to a degree from CSUN or other CSU. When BUC students graduate, their degrees are transferable to CSUN and to U.S. colleges.
"BUC and CSUN are celebrating the 10th anniversary of their partnership," said Patrick Colabucci, director of global studies for the Tseng College's Intensive English and University Pathways Programs. "We at the Tseng College are honored to host the BUC visiting delegation."
The delegation met this week with Patrick Colabucci and with CSUN president Dianne F. Harrison and Tseng College dean Joyce Feucht-Haviar.
Dean Joyce Feucht-Haviar traveled to Oman in 2011 to represent the Tseng College at the BUC graduation ceremony. Since 2003, faculty and senior administrators from CSUN and BUC have worked with BUC representatives to develop academic programs leading to bachelor's degrees. CSUN's College of Business and Economics, College of Engineering and Computer Science, College of Humanities and the Tseng College helped with course development, and CSUN faculty teach as guest instructors.
Oman is located on the southeast corner of the Arabian Peninsula. It has a population of 2.33 million, and an 80 percent literacy rate, according to the US. Department of State. The country gives priority to education and has nine private colleges and plans additional public universities. Oman also belongs to the World Trade Organization. The United States has maintained relations with Oman since 1833 and entered into a Free Trade Agreement with Oman in 2009 to promote econmoic reforms and openness.