NEWS AND EVENTS
UBI Global Honors LA Cleantech Incubator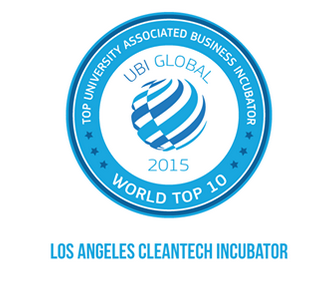 (January 4, 2016) - Congratulations to Los Angeles Cleantech Incubator for recognition as a top business incubator! UBI Global ranked LACI third on its list of Top University Associated Business Incubators of 2015. UBI Global has an international portfolio of members dedicated to working with colleges and universities, government agencies and entrepreneurs throughout the world to launch new business start-ups. 
"LACI has over 70 mentors and partners who provide free services in marketing, accounting, legal assitance, pitch preparation, product design, prototyping and software development," said Kevin Randolph, LACI's Executive in Residence. 
With a focus primarily on clean tech alternatives, LACI helps sustainable enterprises move from the realm of ideas and business plans to production and distribution. 
"Our portfolio has grown revenues from $10 million in 2013 to over $51 million in 2015," Randolph said. "We assisted companies in raising over $65 million in investments. All this activity resulted in creating 784 new jobs yielding almost $180 million in long term economic value." 
LACI's thriving satellite office on campus helps local entrepreneurs move from idea to execution. The knowledge of CSUN faculty, along with university research and resources, play a huge part. Professors collaborate with LACI's business executives to offer mentoring, expertise and practical direction. Because of LACI and LACI@CSUN, budding entrepreneurs get to launch their business dreams!