NEWS AND EVENTS
SAGE Donates to Oviatt Library Database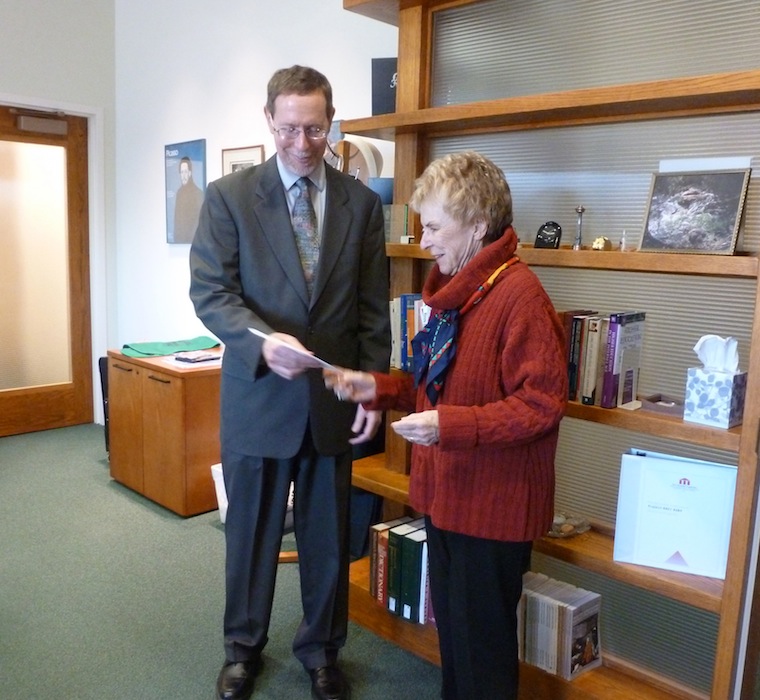 (December 13, 2013) – Thanks to the generosity of SAGE, a learning-in-retirement group affiliated with the Tseng College, California State University, Northridge's Oviatt Library has an additional $4,500 donation today for one of its online databases.
"We are happy to do it for the benefit of students and to promote knowledge," said SAGE president Jeanne Polak-Recht. "We are very glad to help the cause of education."
The funds help maintain the library's Literature Resource Center. SAGE has donated annually to the library for more than 15 years, providing financial assistance for its database. "This is wonderful, and this helps us so much," said Oviatt Library dean Mark Stover at the check presentation.
SAGE members are retired people in the area who devote themselves to learning through self-directed study groups, forums with speakers, retreats and scholarship donations for CSUN students. For many years, SAGE hosted Senior Computer classes on campus, teaching basic computer skills to hundreds of area senior citizens.
"We are part of the CSUN family, which is something we are very proud of," said Ed Gilbert, SAGE's CSUN liaison, at the check presentation.