NEWS AND EVENTS
Nicole Wilson Receives Emerging Leader Award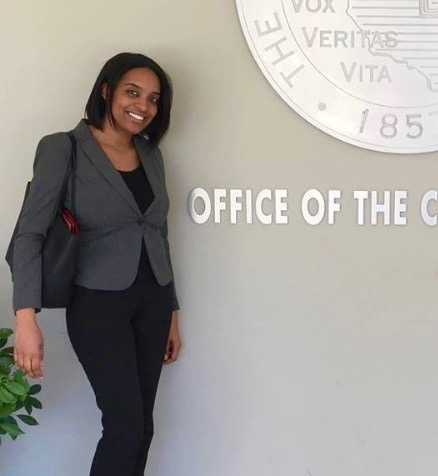 (April 11, 2017) - Congratulations to Nicole Wilson for receiving the Emerging Leader for Extended Education Award! The California State University Chancellor's office chose Nicole for her passion for higher education and student success. The CSUN student and Tseng College employee graduates with honors this May. She pursues her M.A. Educational Administration, Specialization in Higher Education while working full-time. And despite the demands of her job as an administrative support coordinator to the associate dean, she maintains a 4.0 grade point average. 
Her nonstop activities to keep students motivated coincide with her studies. She co-developed a tutoring and peer mentor program through Developmental Mathematics to help underrepresented students. Nicole also mentors students, serves as scholarship committee chair for the Black Alumni Association, belongs to the Graduate Student Leadership Council, facilitates panels on academic success, and took part in the 2016 Clinton Global Initiative University conference. She also serves as a student representative on the ExCEL Advisory Board, which works to improve student retention and graduation rates. 
Nicole recently visited the California State University Office of the Chancellor to get a look at the administrative side of education. She met with Sheila A. Thomas, assistant vice chancellor/dean of Extended Education. While there, she got an overview of CSU policies. But the day of immersion comprised more than a look at manuals and papers. "They talked about career goals," she said. "They talked about our mentoring program. It was a wonderful opportunity to learn about the inner working of the Chancellor's office, policymaking and the CSU system." 
Nicole's focus on helping underrepresented students coincides with system-wide goals to increase graduation rates. The CSU's Graduation Initiative 2025 commits the CSU to increase the four-year graduation rate to at least 40%, and the six-year graduation rate to 70%. The Public Policy Institute notes, "The state needs more college graduates to shrink a projected skills gap. College graduates generally have higher salaries and better health outcomes." Nicole helps make those goals a reality!