NEWS AND EVENTS
Music Industry Executives Share Expertise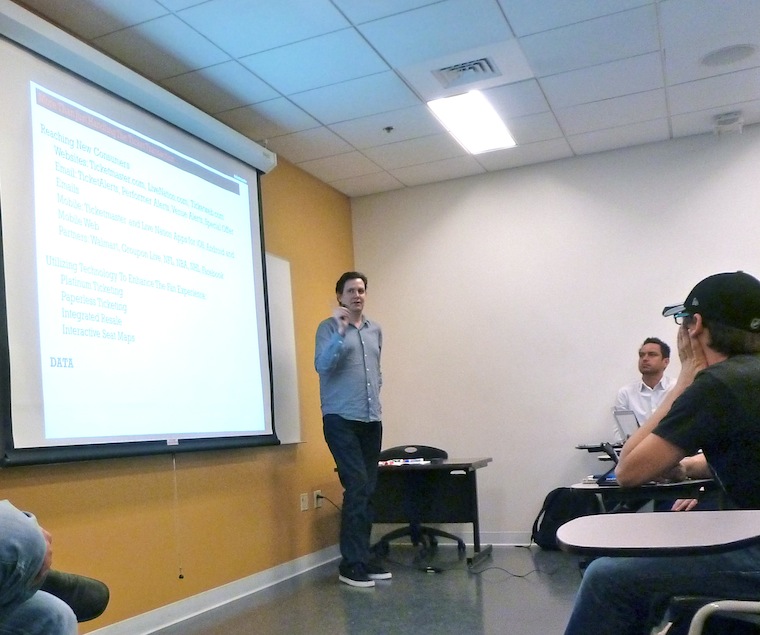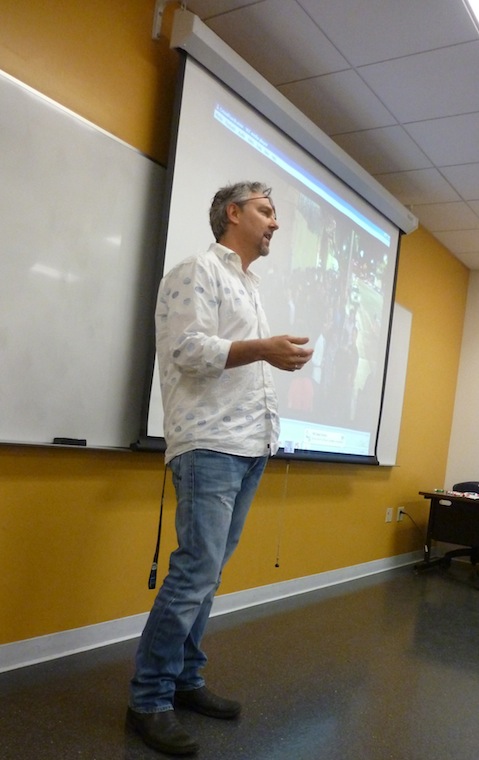 (April 2, 2014) - Executives from two major event ticketing, management and promotion companies gave a dynamic presentation to a CSUN class about the growing use of mobile technology, aps and social media to drive concert sales and engage fans.
Gary Schmale, vice president of Ticketmaster and Mark Mayerson, vice president of CrowdTorch by CVent told a packed classroom in the Master of Arts in Music Industry Administration program how promotional efforts engage millions of fans in a tech-driven world.
"These are issues that managers need to know about – social media and ticketing," said Amanda Harrison, instructor of the "Current Trends in the Music Industry" class that hosted the guest speakers. The Tseng College offers the master's program in collaboration with CSUN's College of Business and Economics and CSUN's Mike Curb College of Arts, Media and Communication.
Schmale and Mayerson explained how their companies develop profiles of fans that attend concerts, cheer at sports venues and may spend hundreds of dollars for an event.
It's about marketing and outreach," Schmale said at the presentation, where he spoke about dealing with agents, artists, fans and venue executives to get thousands of tickets sold for individual events. "It's about enhancing the fan's experience." That enhancement includes creating channels and notifications to fans to keep them as engaged participants in a performer's event, driving them to purchase tickets.
"We go to the artists and tell them we focus on reaching new consumers," said Schmale, whose company sent more than one billion emails last year and draws 26 million unique visitors per month to its website. "We don't wait for people to come to us. We reach out." According to the New York Times, Ticketmaster sells tickets for more than 80 percent of the major concert venues.
Data mining to learn about an audience enables companies to reach out to current and potential audiences by discovering their interests and spending habits. "Analytics create a fan profile report with lifestyle data," said Meyerson of CrowdTorch, which uses ticketing, mobile technology fan engagement, websites, social media and audience analytics to engage an audience and connect them with performances. "There are opportunities to find out who your fan is."
People increasingly turn to mobile phones for concert transactions.
And while emails remain important, mobile phone notifications, web sites, partnerships with retail and entertainment partners, and social media play major roles in sales. According to Juniper Research, one in eight mobile users worldwide will buy or have tickets delivered through their phone by 2015.
Forbes notes that global payment transaction are expected to grow to $721.3 billion in 2017, with ticketing the fastest growing transaction.
By making a positive interactive experience, fans become promoters, themselves. The excitement of live performances drives attendance and energy at the venues where, as Timothy B. Lee notes in a Jan. 30, 3012 Forbes article, "a growing share of our disposable incomes are going to be devoted to experiences rather than manufactured products."