NEWS AND EVENTS
MPA Students Take First Place at Homeland Security Competition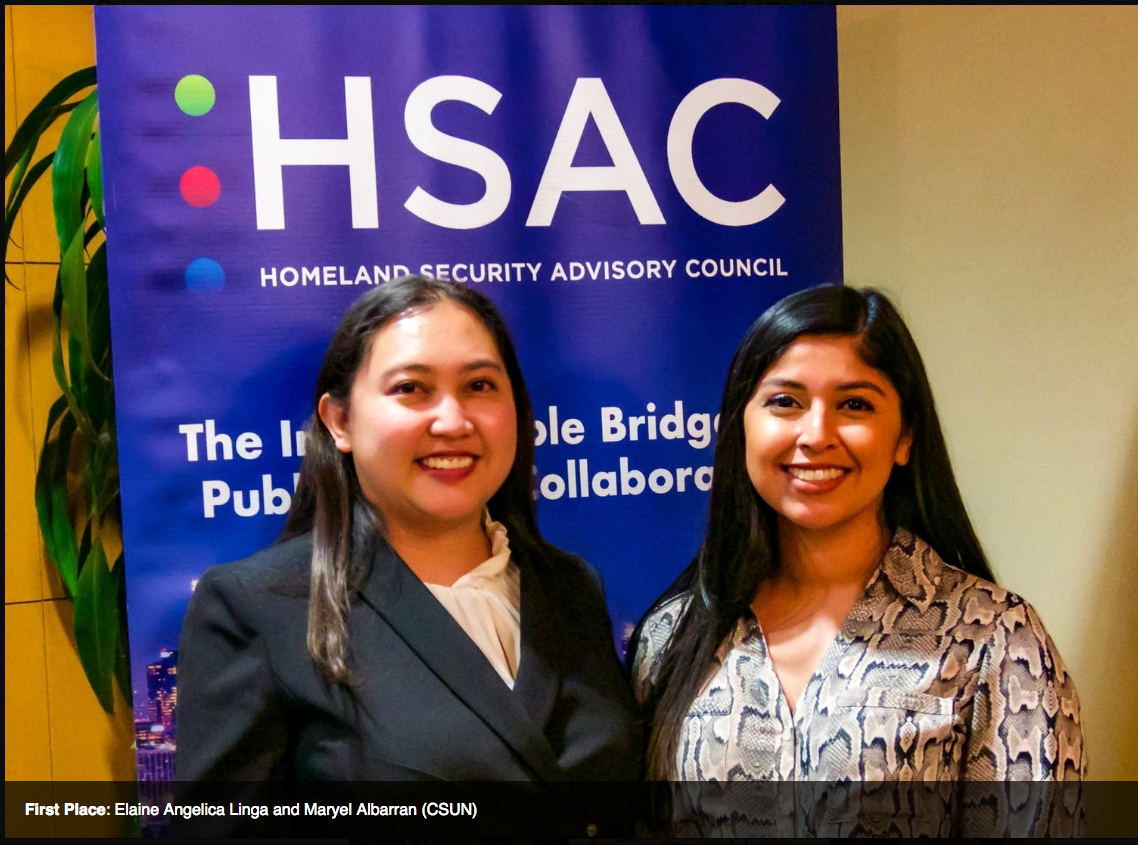 How do you prepare society's most vulnerable populations for a disaster? You do it, says Elaine Linga, from the heart. That's how she and her teammate, Maryel Albarran, approached the 2018 Crisis Management Case Challenge. It's also, in part, how they won.
The pair, who took first place against teams from across the nation, partly attribute their win to lessons learned in CSUN's Master of Public Administration program. "Our professors encouraged us to think creatively and to use our hearts to solve the complex problems of our communities," said Linga, who works for Los Angeles County's Workforce Development, Aging and Community Services. 
Her teammate, Albarran, who is a case manager for Medi-Cal, elaborated: "We were able to use our experience working in the public sector, as well as the knowledge we obtained in the MPA program, to take on this challenge."
Sponsored by the Homeland Security Advisory Council, the annual competition brings together leaders in education, business and government to think about and plan for disasters – natural or otherwise. This year's challenge focused on those most at risk: the elderly, the disabled and people of limited financial means. The team focused on collaboration with agencies, organizations and the community to prepare and respond to disasters.  They stressed the need to lessening the financial and personal trauma on vulnerable populations in case of a disaster.
Linga, who immigrated to the U.S. in 2013, said her personal experience contributed to her understanding of the subject. "I grew up in a country where disasters are part of everyday life," she said. "I was excited to share my knowledge, which is based on my education and experience."
The team presented their recommendations to a panel of subject matter experts and competed against universities such as UCLA, USC, Pepperdine and Northeastern. Their win is the California State University's first in this competition.  Congratulations!