NEWS AND EVENTS
MPA Grad Launches Disaster Preparedness Group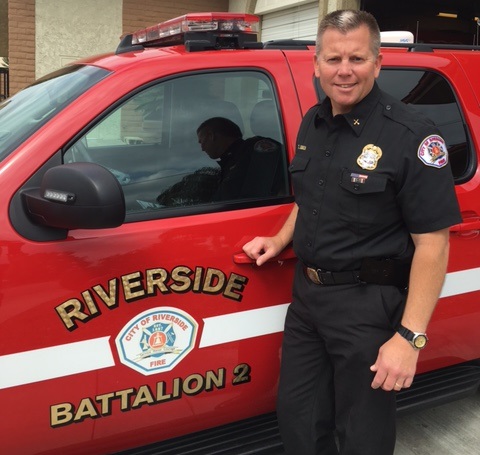 (June 23, 2016) - Congratulations to Todd Gooch, Battalion Chief for the City of Riverside Fire Department! Gooch graduated from the Master of Public Administration program and channeled his passion for emergency preparation into educating the community.
He applied the knowledge he gained in the MPA program to creating MySafe: Riverside, a nonprofit modeled after MySafe: LA. Gooch credits the MPA with his ability to move the organization from idea to reality.
MySafe: Riverside will teach the public how to plan on an individual, group and business level should disaster strike, such as fire or earthquake. "Many private sector entities and educational institutions fail to consider continuity of operations during and after a significant event, due to over-reliance on the public sector," he said. "Everything works great until a natural disaster or terrorist event occurs. Even a small, localized event can have devastating effects."
Collaboration of the public, private and nonprofit sectors are vital for effective response and recovery. Gooch worked with the City of Riverside Fire Department and with the city government to develop the project.
The organization wants everyone prepared. "MySafe: Riverside will also provide professional quality, custom public service announcements, fire and life safety training, and education to three of our most vulnerable populations – grade school students, senior citizens, and the deaf and hard-of-hearing community," he said.
Riverside County has a population of 2.361 million, and has more than 50 agencies and departments. That makes emergency preparedness an important part of everyone's "what if" scenario.
"I never would have been able to do this, or realized the value of public/private/nonprofit collaboration, without the knowledge that I obtained during my CSUN MPA program," he said. Now, people can get fire smart, quake smart and, if necessary, evacuation-ready!