NEWS AND EVENTS
Master of Arts in Diverse Community Development Leadership Launches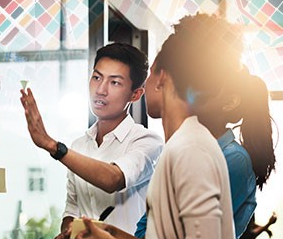 Millennials and Generation Z-ers make it clear:  They don't want just another cubicle job without meaning.  Gallup research reports that millennials are "motivated more by mission and purpose in a job than a paycheck." But millennials aren't the only generation seeking higher purpose.  Employees of all ages highly value meaning in the workplace.   Nine out of ten will trade earnings for meaning and will stay at their jobs longer if they find meaning, according to BetterLabs research.
The new online Master of Arts Diverse Community Development Leadership (DCDL) will appeal to those who want to make a positive difference in the community.  "It has a focus on social justice, which underlies how the program came into being," said Sheena Malhotra, Ph.D., a professor in the Department of Gender and Women's Studies and interim academic lead for the program.  "This program is focused on diverse communities.  The program prepares you for taking a leadership position and developing leadership."
Students won't just sit at a desk or computer.  They'll meet with individuals and organizations in diverse communities to identify core needs.  That means working with stakeholders, getting initiatives launched and leverage activism.  Students will get out in the field and collaborate with a local community partner in real-world situations, giving them a portfolio to show potential employers.  The program also includes practical steps such as grant proposal writing and launching fundraising campaigns.  "You develop a project with a particular community partner," Malhotra said.   "You do a project that will help you give something back to the community."
Students can tackle areas such as community services, economic challenges, the environment, housing needs, real estate development, transportation and workforce development.  By getting the perspective of diverse community stakeholders, positive change can occur.  And because faculty members come from several CSUN colleges, students get a range of perspectives and a multi-disciplinary education.  Professors are from the Colleges of Humanities, Social and Behavioral Sciences, and David Nazarian College of Business and Economics. 
CSUN provides the perfect setting for the new degree.  The Wall Street Journal/Times Higher Education ranked CSUN second nationally in its 2020 list of Campuses with the Most Diversity.  Insight into Diversity, recognized CSUN in 2019 with a Higher Education Excellence in Diversity Award for achieving a diverse and inclusive campus community. The Carnegie Foundation for the Advancement of Teaching gave CSUN the 2020 Carnegie Community Engagement Classification for the university's commitment to community engagement and service.
This new degree launches in Fall 2020, and the priority application deadline is March 24.  Interested in learning more? Join us at an information session on campus April 8 or online April 9. Find out more about the program and sign up for the information session.