NEWS AND EVENTS
L.A. Chamber Honors Tseng College with World Trade Award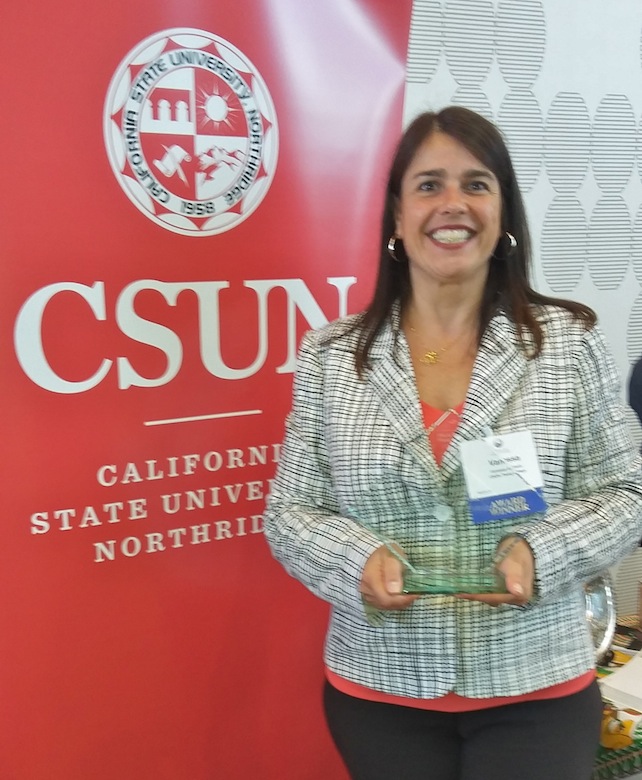 (May 3, 2016) - The L.A. Area Chamber of Commerce kicked off World Trade Week with an award to the Tseng College today! The chamber recognized Tseng College programs and their international influence with a World Trade Week Export Achievement Award. 
The Tseng College received the award at the 90th Annual World Trade Kickoff Week Breakfast in downtown Los Angeles. The celebration was part of World Trade Month, sponsored by the U.S. Department of Commerce's International Trade Administration. Events across the country in May promote international trade and investment. 
"We are very excited to be a recipient of the 2016 Award," said Vanessa Andrade, Associate Director of International Programs & Partnerships for the Tseng College. "This award is a reflection of all our efforts to make CSUN an international destination for businesses, students and professionals." 
World trade isn't just for business. CSUN is one of the largest U.S. providers of English-language and college-prep instruction for international students. Students find an energetic hub here where they can learn English, enroll in university courses alongside regular university students, and take in American culture. CSUN has the second largest international student population of any U.S. Master's level institution. It partners with more than 100 colleges and universities in 22 countries. And fully online degrees administered by the Tseng College reach students no matter where they live. 
"I am thankful for the partnership and support from the U.S. Commercial Service in helping us achieve our success," said Vanessa.