NEWS AND EVENTS
CSUN at Clinton Global Initiative University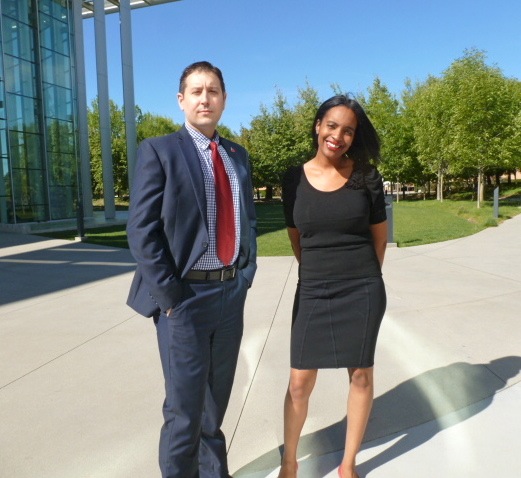 (March 30, 2016) - A dozen CSUN reps head out to the Clinton Global Initiative University conference April 1-3, with two Tseng College staff taking part! Nicole Wilson, assistant to the associate dean, and program manager Jesse Knepper can't wait to present their proposal. They developed a plan to help underrepresented college students conquer math with tutoring and mentoring.
When Jesse and Nicole found out about the conference through CSUN President Dianne F. Harrison, they couldn't resist. Both not only work at CSUN but also have a passion for their studies. Nicole is pursuing a Master of Arts in Educational Administration, and Jesse is working on his doctorate in education. Both saw a need to help underrepresented students succeed in math.
"We hope to create peer to peer mentoring," said Jesse. "You submit a proposal to CGIU and commit to action. For Nicole and me, that area was education." After collaborating with the Developmental Math director and university officials, they created a plan that combines mentoring by fellow students with tutoring.
CGIU loved their proposal and invited them to talk about it at the conference, where they'll interact with hundreds of students and educational leaders. "There will be scholars in every area of interest. There will be global leaders," said Nicole.
But it's not just a place to meet people. It's a setting for college and university students to turn ideas about improving their schools and communities into concrete action plans. The annual conference brings together students and education leaders around the world. President Clinton launched the initiative in 2007 and will host this year's event with Chelsea Clinton.
Nicole said the conference was a perfect fit for them. "We work in education, and we're both students. We want to make research more actionable."