NEWS AND EVENTS
Accelerated Bachelor of Science Nursing Program Draws Crowd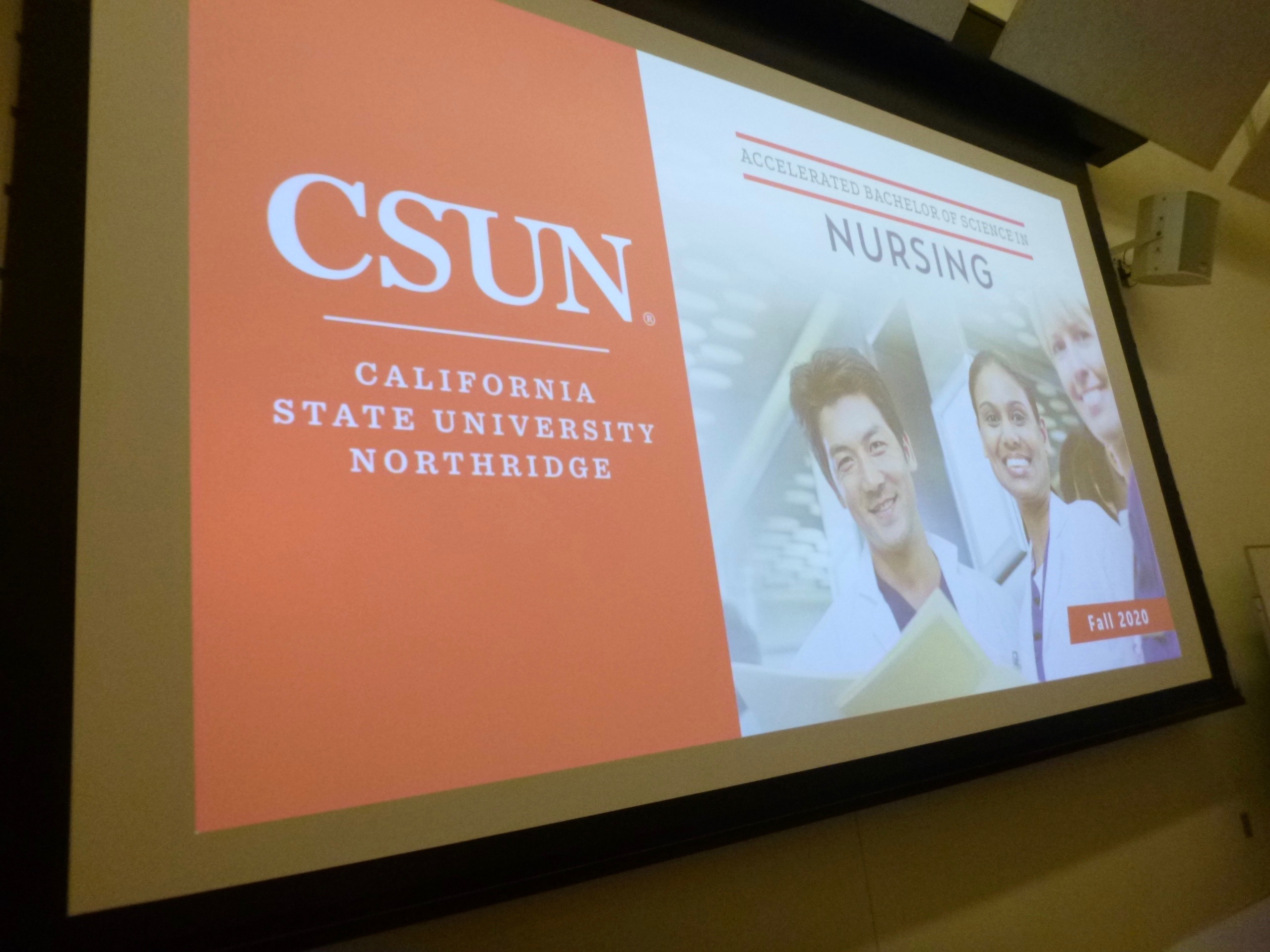 The shortage of registered nurses is expected to grow in California, and CSUN is helping to meet that challenge with its Accelerated Bachelor of Science Nursing (ABSN) program.  Over 100 attendees packed into a Nov. 7 information session at Kurland Hall to find out about the intensive 15-month program.   The degree not only focuses on individual, family and group health but also includes clinical placements that give students hands-on experience.
CSUN's nursing degree is highly successful and competitive.  In 2018/2019 CSUN students achieved a first-time passage rate of 100 percent for the National Council Licensing Examination (NCLEX). This exam is required for licensure as a registered nurse. 
At CSUN a cohort format means students move through classes together as a group.  "The people you start with are the people you finish with," said Rebekah Child, Ph.D., RN and chair of the Department of Nursing. She noted that hospitals look for students with a bachelor's degree from a nursing program, and a clinical placement can help with future employment.  "We have a good relationship with hospitals.  You will meet people you will click with and who will vouch for you."
The overall job outlook for registered nurses is expected to grow 12 percent from 2018-28, according to the Bureau of Labor Statistics.  The bureau states, "A bachelor's degree or higher is often necessary for administrative positions, research, counseling and teaching.  Employers – particularly those in hospitals – ­ may require a bachelor's degree."
Students in the accelerated program receive support from admission to degree. "We support you through the program," said Yvonne Carrillo, a program manager for the Tseng College, which administers the ABSN program for CSUN.  "We help you with enrollment, communications and financial advising.  You don't stand in line with admissions and financial aid.  We handle that for you."
The attention students get means they don't feel they're alone, struggling.  "I meet with students and check in with people," Childs said.  "It is boutique style.  You don't get lost in the crowd."
The U.S. Department of Health and Human Services notes in its 2017 report, "Supply and Demand Projections of the Nursing Workforce: 2014-2030",  that "If the current level of healthcare is maintained, seven states are projected to have a shortage of RNs in 2030.  The most severe shortage is seen in California."
Nursing is the largest profession in the U.S. healthcare workforce, according to the Department of Health and Human Services.  CSUN addresses that continued need through its accelerated 15-month program.  Join us for the next ABSN information session Dec. 4. RSVP today. Space is limited.