Master of Arts in Music Industry Administration
About This Program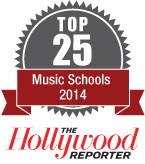 The first graduate program of its kind in the Western United States – and the only one located in the heart of the nation's professional entertainment community – CSUN's Music Industry Administration M.A. is an excellent solution for professionals seeking careers in producing, distributing and promoting music.
Learn the business of music today
Because the program focuses on the many aspects of the industry itself –current trends, music publishing, e-commerce, marketing management, organizational behavior, entertainment and copyright law – there is no performance requirement for admission.
Offered by the Department of Music in CSUN's Mike Curb College of Arts, Media and Communication in collaboration with the university's David Nazarian College of Business and Economics and the Tseng College, the 33-unit Music Industry Administration program takes only 21 months to complete and is taught by distinguished music industry and business professionals. Many of the courses are the same as those taught in the MBA program and include a focus on the music industry.
Networking opportunities to enter and excel in the music industry
The program is offered in the cohort format, which facilitates networking and the formation of lasting professional connections. Students have the opportunity to meet leaders in the field and participate in industry events such as the Grammy Awards. The evening and weekend course schedules are designed to fit the busy lifestyles of program participants.
Get the training to succeed in various professional roles
The program prepares graduates for success in a number of music industry roles, including the following:
Music business administration – recording executive, talent management, producing, publishing and copyright administration, music products, music supervision, live entertainment
Marketing or licensing music – producer, publishing administrator, music supervisor, music clearance specialist
Promoting and publicizing music – marketing, publicity, public relations specialist
Presenting live performances – concert promoter, concert producer, tour manager
Assisting performers with their careers – talent agent, personal manager, business manager
Exceptional support services designed for working professionals
From application to graduation, students enjoy the one-on-one support of a designated program manager and a CSUN faculty member assigned to coordinate the efforts of all teaching in the program. This support frees busy professionals from navigating the University's administrative systems to focus on their studies.
Instant access to world-class faculty and campus facilities
Students who take courses at the CSUN campus find themselves situated on the largest public university in California and surrounded by the park-like atmosphere. These students have direct face-to-face interaction with peers and faculty, and can take advantage of the library, health center, bookstore, student life activities and various other campus resources that are provided for their convenience.