The M.S. in Assistive Technology Engineering program is designed and taught by CSUN faculty members in collaboration with assistive technology industry professionals who are leaders in their areas of specialization. This blend of practitioners with outstanding CSUN faculty ensures that you will graduate with a solid academic background and be well prepared for the realities of practice in the field.
Robert Conner, Ph.D.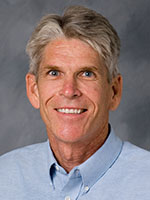 Professor, Department of Manufacturing Systems Engineering and Management
ATE 501: Functional Biology, Biomaterials and Design Innovation
Concepts taught in ATE 501 have extensive application to create new assistive technology products. Conner has a Ph.D. in materials science from the California Institute of Technology, and he understands that materials selection and processing are at the core of engineering design. His knowledge of advanced engineering materials provides students with a foundation in materials types, properties and processing techniques. He has taught advanced biomaterials at CSUN since 2008 in the graduate materials engineering program in the Department of Manufacturing Systems Engineering and Management. He also has published papers related to biomaterials fatigue and corrosion. Conner leads students in the application of concepts to the development of AT products. His in-depth understanding gives students the technical knowledge they need in this field.
Xiyi Hang, Ph.D.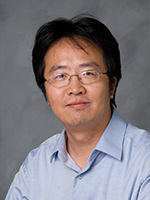 Professor, Department of Electrical and Computer Engineering
ATE 604: Instrumentation and Measurement.
Xiyi Hang is a professor in CSUN's Department of Electrical and Computer Engineering. His current research interests include biomedical signal/image processing, machine learning and bioinformatics. Dr. Hang received both his master's and doctoral degrees in biomedical engineering from Ohio State University.
Taeyou Jung, Ph.D., ATC., CAPE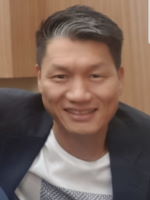 Professor, Department of Kinesiology
Executive Director, Center of Achievement through Adapted Physical Activity
ATE 603: Applied Biomechanics and Motor Control
ATE 694: Current and Emerging Topics in Assistive Technology
ATE 698: Graduate Project
Jung's Ph.D. in kinesiology with an emphasis on sports medicine/adapted physical activity gives him specialized expertise. His research focuses on investigating the movements of people with neuromuscular disabilities and clinical outcomes following therapeutic interventions. Jung's research projects include studying brain activity corresponding to exercise via functional neuro-imaging tool (fNIRs); clinical investigation of using Virtual Reality (VR) applications in rehabilitation; and evaluation of gait and balance outcomes following various locomotive training modes. ATE603 provides a solid foundation of biomechanics and motor control. The course will help students understand human movement through biomechanical, neuromotor and physiological aspects. In ATE 694 students explore current and emerging topics in assistive technology via recently published research and interviews of experts.
Jung has extensive experience in this field. As director of CSUN's Center of Achievement through Adapted Physical Activity, he oversees internationally recognized adapted therapeutic exercise and aquatic therapy programs for people with special needs. He worked at the Gait Analysis and Human Performance Laboratory in the Kluge Children's Rehabilitation Center and the McCue Sports Medicine Center in Virginia. He also worked as an adapted physical education specialist in Virginia public schools. His practical experience and academic background give him in-depth understanding of the assistive technology field.
Youngok Jung, Ph.D.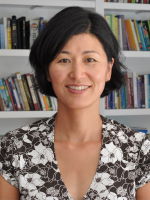 ATE 502: Seminar in Human Characteristics in Relation to Usability of Assistive Technology
Jung brings her experience as an early childhood special education teacher to ATE 502. She has a Ph.D. in psychological studies in education and a Master of Education degree from UCLA. Jung has worked with children of various disabilities (e.g., autism, cerebral palsy, hard of hearing), whose individualized education plan emphasized assistive technology in their education and everyday life. She also worked with college students with disabilities, providing alternate learning modes and materials. Her research interests include the measurement and evaluation of the motor development of children with developmental coordination disorder or cerebral palsy.
In this course she helps students identify psychological and physiological human factors that are fundamental to the design and development of assistive technology devices and services. Students will learn how to apply user-centered universal design principles to match promising assistive technologies to individuals with disabilities. She gives students an understanding of the intervening role of assistive technology. Students will explore how the merging of assistive and mainstream technology can support the human rights of individuals with disabilities and enhance the function and performance of all people.
Eunice Lee, M.S.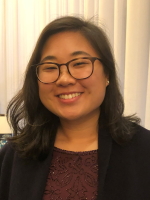 ATE 501: Functional Biology, Biomaterials, and Design Innovation
Eunice Lee is a lecturer of Engineering Materials at Tseng College. She received her M.S. in Materials Engineering from California State University Northridge and her B.S. in Chemistry from Portland State University. Lee brings her extensive knowledge and experience of a wide array of materials, processing techniques and applications in the aerospace industry to ATE 501. She provides students with the engineering knowledge and resources required to select the appropriate materials for desired applications and define affordable and manufacturable processing techniques.
Andy E. Lin, M.S., ATP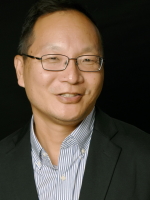 Adjunct Professor
ATE 698: Graduate Project
Andy Lin is a rehabilitation engineer at the Center for Applied Rehabilitation Technology (CART) at Rancho Los Amigos National Rehabilitation Center (RLANRC) with over 25 years of experience designing, creating and customizing tech for individuals with disabilities. Lin is also the founder and director of the Emerging Tech Lab at RLANRC, which focuses on the research and application of new technologies for rehabilitation and independent living. As an expert in accessibility, rehabilitation engineering, inclusive design, and assistive technology, Lin is a regular participant and speaker at clinical research, engineering, and tech conferences. He has directly collaborated on inclusive design projects with Microsoft and Google and startups in the disability and rehab tech fields. Lin obtained his M.S. in Instructional Design and Technology from California State University Fullerton.
Li Liu, Ph.D.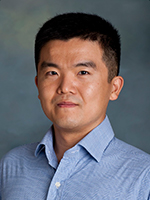 Associate Professor, Department of Computer Science
Academic Lead, Master of Science Assistive Technology Engineering
ATE 606: Assistive Technology Software Development and Applications
Liu's research focuses on human-computer interaction (HCI): design, evaluation and implementation of interactive computing systems. He is passionate about enabling accessibility of computing. His research breaks barriers created by computing technology, especially for people with special needs. He brings that knowledge to his ATE courses. At CSUN Liu co-directs the Human Computing Lab and serves on the Scientific/Research Committee of CSUN's annual international Assistive Technology Conference. He has written numerous conference papers, with topics that include tongue-computer interaction for those with upper limb impairment, non-contact human computer interaction and smartphone keyboards and keys for elderly people. Liu believes that "simplicity is the ultimate sophistication" for a highly usable system. He takes that belief and his knowledge of the field to all his classes.
Benjamin Mallard, M.S.E.E.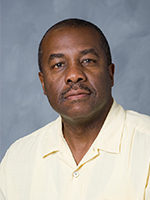 Lecturer Emeritus, Department of Electrical and Computer Engineering
ATE 607: Product Design and Development for Assistive Technology
ATE 608: Augmentative and Alternative Communication
ATE 694: Current and Emerging Topics in Assistive Technology
Students in ATE 607 learn the basic approaches to designing a technical product within the scope of design constraints and development issues. Mallard earned a Master of Science Electrical Engineering from the University of Southern California, and he has lengthy experience as a professional engineer in technical firms. He provides students with the benefit of his extensive accomplishments in product design and development, and AT-related communication. He has worked as a professional engineer for 15 years in the area of circuit and system design that provides the foundation of ATE 607, 608 and 698. He has taught circuit and system design for more than 25 years, nurturing and developing students' expertise. Through research, lectures, and relevant and recent publications, Mallard stays current with the latest ATE developments. He understands and teaches the interaction of ATE with societal issues and applications. Mallard ensures that the information students gain will positively impact their present and future professional lives.
Vidya Nandikolla, Ph.D.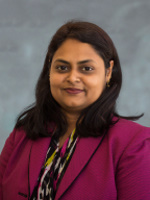 Associate Professor, Department of Mechanical Engineering
ATE 605: Robotic Applications and Control Interface in Assistive Technology
ATE 698: Graduate Project
Vidya Nandikolla is an associate professor in CSUN's Department of Mechanical Engineering. She works in the field of bioinstrumentation, soft robotics, assistive technology, and autonomous mobile robotics. Before joining CSUN, Dr. Nandikolla worked at Boise State University and Philadelphia University (now Jefferson University) as a professor in the College of Engineering. She has more than 10 years of experience in biomedical research and has published numerous peer-reviewed papers in the field of biomedical engineering. As a faculty advisor, she worked closely with the students from Boise State University on a NASA Microgravity University project developing an incubator to study the bone losses in microgravity. She specializes in mechatronics design, system dynamics and control, robotic applications in mobility and medicine, biomedical instrumentation, and design of prosthetic device/system in assistive technology. She teaches Robotic Applications and Control Interface in Assistive Technology (ATE 605) and advises Graduate project (ATE 698).
Taehyung Wang, Ph.D.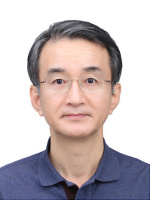 Professor, Department of Computer Science
ATE 609: Assistive Technology Project Management
Dr. Wang obtained his Ph.D. in Computer Science and Electrical Engineering from the University of California, Irvine (UCI) in 1998. He is currently a professor of the Department of Computer Science at California State University, Northridge (CSUN). Prior to joining CSUN, he was a researcher with the Department of Electrical Engineering and Computer Science and the Center of Biomedical Engineering at UCI. He is active in research in data mining and semantic computing. He has published over 50 papers in these areas.