NEWS AND EVENTS
VITA Clinic Helps Low-Income Taxpayers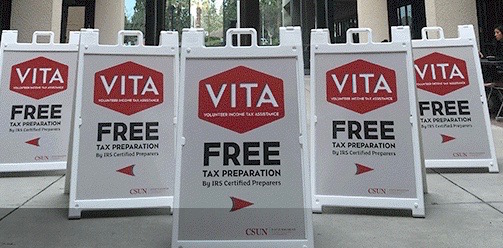 CSUN business students don't just study in a classroom.  They're out in the community during tax season offering free help to taxpayers. Those earning less than $54,000 a year can get their taxes prepared and filed for free, thanks to CSUN's Volunteer Income Tax Assistance (VITA) Clinic.  The David Nazarian College of Business and Economics administers the annual program through the Bookstein Institute for Higher Education in Taxation.
Hundreds of specially-trained students assist low-income taxpayers, veterans and others  needing help.  Students in the College of Business and Economics and the Master of Science Taxation program provide help on campus and at libraries and several nonprofit locales. Experienced practitioners oversee the students' work.
"We have about 18 graduate tax students involved in VITA this tax season, as volunteers," said Rafi Efrat, professor of accountancy, director of the M.S. Taxation program, and chair of the Bookstein Institute for Higher Education in Taxation.
Tax season can be overwhelming.  More than 154 million tax returns were filed in 2018, according to the IRS.  And at least 14 million people waited until the deadline day to file their 2018 taxes.
Last year VITA served more than 7,500 taxpayers.  Community involvement keeps VITA going at 20 sites throughout Los Angeles County.  Supporters include Bank of Hope, Citi Community Development, the City and County of Los Angeles, CSUN Associated Students, Family Source, Friends of the Family, Harvey and Harriet Bookstein, Los Angeles Department of Water and Power, New Economics for Women, and Wells Fargo. 
Taxpayers can make appointments with VITA now either online,  or by calling (818) 677-3600 or emailing VITA@csun.edu.