NEWS AND EVENTS
Constitution Day Event Takes on Supreme Court and Federal Appointments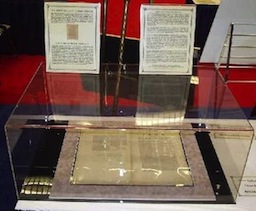 (August 25, 2016) - Celebrate Constitution Day with us at our annual presentation! We're hosting a panel discussion on the conflict over Supreme Court nominations and Senate confirmation. The Senate can block Presidential appointments to the Supreme Court and to other high-level federal offices. This election year pushes the issue to the forefront.
"We'll be dealing with the concept of Advice and Consent as a Constitutional concept," said history professor and panelist James Sefton. "This is an election year, and events have made Advice and Consent into an election issue."
Join Dr. Sefton and Dr. John Evans, associate professor of political science at the University of Wisconsin-Eau Claire as they talk about this critical subject. The audience will have a chance to ask questions and offer their own opinions. Come prepared for debate and a lively discussion!
When: Saturday, Sept. 17, 8:30-10:30 a.m.
Where: University Club-Orange Grove Bistro
Cost: Free. Includes continental breakfast.
Please RSVP by Sept. 14. To reserve your spot, email melaine.pemberton@csun.edu or call (818) 677-7131.