NEWS AND EVENTS
Constitution Day Event Features War Powers Talk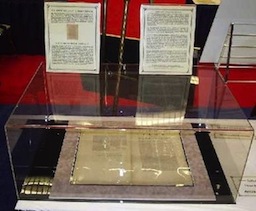 Celebrate Constitution Day at CSUN Sept. 15, 8:30-10:30 a.m., with a free presentation about the power to declare war! CSUN history professor James Sefton and political science professor John Evans of Augsburg University in Minneapolis lead a talk about War Clauses in the Constitution.  They'll discuss the tension between the president as commander-in-chief and Congressional power to declare war.
"CSUN's Constitution Day program will examine what the Constitution says about the war powers of both Congress and the president in today's contemporary environment," said Marcella Tyler, executive director of program advancement for The Tseng College.  "Two hundred and thirty-one years ago, 39 forward-thinking delegates to the Constitution Convention signed a document that constructed the framework of our national federal government.  The U.S. Constitution is as relevant today as it was then."
Hear what the country's founders had in mind when they created this classic document. Enjoy continental breakfast as you get different viewpoints. Have your questions and comments ready as we explore the Constitution!  The event meets at the University Club-Orange Grove Bistro. Reserve your spot by emailing melaine.pemberton@csun.edu, or call (818) 677-7131 by Sept. 12.  Hope to see you for our Constitution Day event!